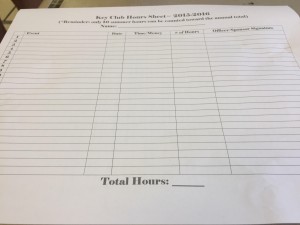 Key Club is "an international student-led organization which provides its members with opportunities to provide service, build character and develop leadership." 
At Leesville, Key Club is one the most popular ways for students to keep record of their service hours. Popular service activities include tutoring, volunteering at the YMCA, and helping at camps as a camp counselor.
On Thursday, May 4, members of Key Club turned in their log of service hours. The purpose of these logs is to quantify the service that Key Club members do during the school year.
Members of the club are required to earn and record 50 hours of service. They are allowed to include ten previous hours from summer. For many students, accumulating fifty hours of service can be difficult.
"The most challenging part of Key Club is that you have to get enough hours, and you have to get the signature of the [sponsor]," said Brooke Bombien, a member of Key Club. "I think [the most difficult part] is finding the time for it because you have to get so many hours," said Waverly Kennedy, a member of the club.
Now that the hours have been collected, officers of the club begin to organize the service logs. "We just keep record of the hours, and then we submit them to the International Key Club Organization," said Lauren Callaghan, secretary of Key Club.
Occasionally, turning in a service log can be viewed as a cause of stress rather than a reward for hard work; however, after the deadline, members get to see how all of their work payed off.