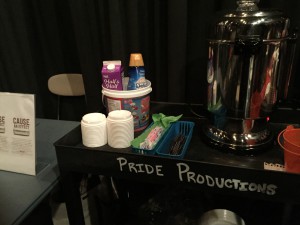 On Wednesday, March 15, Mainstage put on a musical theatre cafe for Leesville. "There's one unit that Mainstage does every year that changes," said Mickey Langley, a member of Mainstage. Last year, Mainstage presented a children's show; however, this year's event was the musical theatre cafe.
Mainstage spent a lot of time preparing for the cafe. "We all had to audition vocally, so Ms. Tarson [Leesville's theatre teacher] could choose what songs we would be in, and then she put us in small groups," said Langley. However, Mainstage members didn't just perform each song. "[Ms. Tarson] also assigned choreographers for each song, so almost all the pieces are choreographed by students," said Langley.
During the cafe, refreshments such as coffee and desserts were available to attendants. The cafe consisted of multiple short song and dance numbers from a variety of musicals, including Chicago, School of Rock, and Kinky Boots.
Every member of Mainstage performed in the song "Coffee Break" from the show "How to Succeed in Business Without Really Trying", while smaller groups of students sang individual or group songs. Before each song, the performer recited a quick synopsis of the show so the song could be understood in the context of the musical.
Although many members of Mainstage are on stage during musicals singing and dancing, there are multiple members who work behind the scenes as directors or stage managers. "I've definitely had to spend more time practicing. It was so hard; I gained a lot of respect for the actors who can do this so easily," said Langley, who typically directs the plays and musicals. Even though multiple members made their debut singing and dancing on stage during the musical theatre cafe, the result was an exciting and entertaining show!