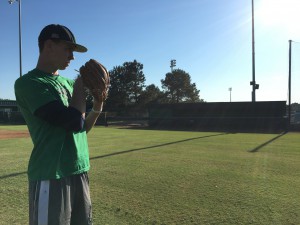 The United State Naval Academy is a four year coeducational federal service academy that is located in Annapolis, Maryland. Jared Leins is a senior pitcher on the Leesville Road Baseball team. He recently announced his commitment to The Naval Academy to further his education and baseball career.
Leins has played baseball since he was six years old starting with tee-ball. He began playing at North Wake County Baseball and moved up to travel and showcase baseball at age 8. Travel and showcase baseball is used to get more exposure to college coaches. He was recruited by The Naval Academy as a pitcher, but Leins has also played first base throughout high school. Leins has a commanding presence on the mound standing at 6'4 and 195 pounds.
Throughout his career, Leins has always been one of the top players on his team. During Leins' four years of high school he has continued to grow into a stronger pitcher on the mound and will be one of the top pitchers on the team this year.
"Jared has made huge strides on the mound throughout his four years in high school.  The coaches always felt like he had a lot of potential but Jared was really the one who worked extremely hard to get better.  All of his success and growth is due to his hard work and determination," said Guy Civitello, varsity baseball coach at Leesville.
The training and hard work Leins has done up to this point are a major reason for his success. He trains at DiamondFit Performance where he works out three times a week. He has also trained, specifically for pitching, with Brandon Young, a former MLB pitching prospect. His hard work and drive to become better all the time are the reasons for his success in the game.
Leins has also been hardworking in the classroom, taking the highest level classes he can and earning high grades in all of them. "Jared never wants to be average or good enough.  Because he wants to be constantly challenged, he will fit in with all of the other Midshipmen and Professors with that mindset. It is a lifestyle at The Naval Academy," said Bethany Leins, his mom.
The students enrolled at The Academy are the officers-in-training and referred to as Midshipmen. There are around 4,500 Midshipmen currently enrolled at The Academy that went through an extensive application process in order to be accepted. One must apply directly to The Academy and receive a nomination, usually from a Member of Congress. The athletes are in a separate pool of people from the students applying solely for academics in the nomination process.
Throughout his high school career, Leins has always pushed himself to be the best on and off the field. He is always looking for new ways to challenge himself to be the best, which is one of the qualities that will make him successful at The Naval Academy. "I chose to commit to The Naval Academy because I wanted to push myself to be the best academically and athletically. I think that The Naval Academy will transform me to be a better person and overall allow me to be more successful in life after college," said Leins when asked about why he chose to commit to The Naval Academy.
Leadership is a key quality that is not possessed in all individuals, and even if a person has leadership skills they may not be an effective leader. Leins is someone who has leadership qualities and is able to be a leader on the field and in the classroom. He is someone that people look up to during practice and games, doing whatever it takes to win and get better.
"Jared is a great leader because he is a lead by example type of person. Younger guys will always see him doing things the right way and when something needs to be done he just does it, he doesn't have to be asked. Jared has become more of a vocal leader as well but doesn't intimidate, he helps. These different type of leadership styles will definitely translate well at The Naval Academy for Jared," said Civitello.
One of the aspects of going to The Naval Academy is that you are required to serve five years in the Navy after graduation. "I'm very excited knowing I will serve my country after graduating from The Naval Academy because coming out of college it's a job. Not only is it a job, but it is an opportunity to show how much my country means to me," said Leins when asked about serving his country after graduating from The Academy.
When Leins started high school, he didn't have any thoughts about attending service academies for baseball or academics, but that changed. "Coming into high school, I had no intention of going to a service academy, but throughout high school, when I weighed my different options and evaluated what school I wanted to go to, the service academies were something that stood out to me. I think they present the best opportunity for me going forward," said Leins.
"Yes, we have a strong military family, and I knew that he would consider all of his opportunities before making his decision," said Bethany about Leins considering service academy opportunities.
Leins is always striving to be the best in all aspects of his life, whether it be on the field or off the field. He hopes to finish his high school career out strong in his final year pitching for the Pride. Leins looks to be a big factor on the mound this year for the team and help them reach their goal of winning the Cap-8 conference.