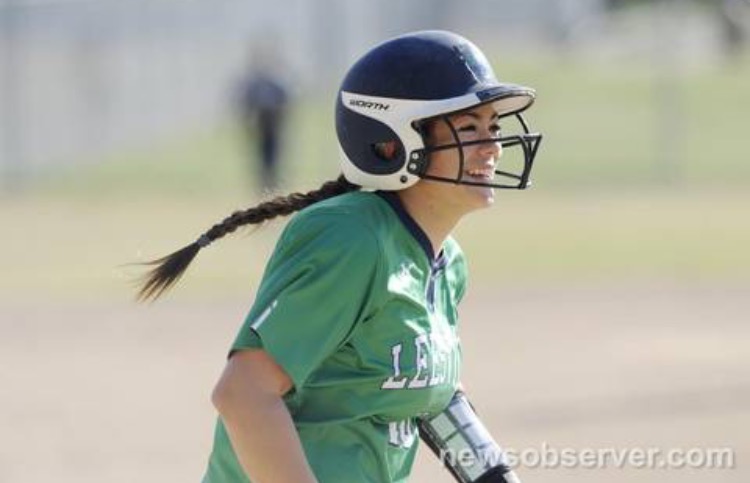 Becca Jones, a junior, is an up and coming softball player. Throughout her career, she has overcome incredible challenges in order to become one of the best softball players at Leesville.
When Jones was six years old, she started playing softball for the very first time. "My older sister did softball in middle school, and everything that my sister did, I wanted to do too," said Jones. This was the beginning to an incredible career in softball for Jones.
As a freshman at Leesville, Jones decided to try out for the softball team. She met many amazing friends and teammates, that she decided to continue throughout her years at Leesville. One of her good friends and fellow team mate is Cecilia Marks. Marks, a sophomore, said, "She [Becca Jones] is somebody I look up to everyday. She's not only a good person, she has outstanding character, and that is something I greatly admire about her. She is also driven and kind to everyone, and you are not going to see anybody else who is as committed to school and her sport".
When not practicing for Leesville's Varsity Softball team, she is practicing for her travel team, The New Jersey Intensity. In 2015, Jones and her team participated in a tournament fourth of July weekend.When they were participating in a tournament. In of the games,Jones ran towards first base and instead of taking an extra step, she decided to slide. "I tore my ACL, two parts of my meniscus, and sprained my LCL," said Jones.
On July 16, 2015, Jones had surgery on her knee. The full recovery time was nine months, and it was devastating.
"I have always had little injuries, like twisting my ankle or spraining my wrist, but my biggest injury was when I tore my meniscus the summer before sophomore year. It hurt me physically and mentally. I was so on top of my game that weekend and something so small just ruined it. It was a hard time, I had to build up my strength to what it was before the injury–it was just a long process. Luckily, I had a lot of good support," said Jones.
By the time the nine months was over, Jones was ecstatic to be back in the game. "I have never been more happy in my life, even though I was still in a brace. I went to Florida for the weekend with my travel team, and I was like a kid in a candy store. I was so ecstatic to be back playing," said Jones.
In the summer of 2016, Jones tried out for the Canadian Juniors Women's National Team. After an exhausting week of intense workout in Canada, Jones returned home to Raleigh. "I was home alone, and I got the phone call. I was incredibly happy. I think over 300 girls tried out, and to be in the top 40 is so amazing."
Jones had to meet several criteria to even try out for the The Junior Women's National Team. As a pitcher, she has to have a fastball of 60 miles per hour, a curveball of at least 58 miles per hour, and screwball of 60 miles per hour. She also has to meet several general standards.
Jones said, "There is so many people who got me here. My parents, of course, drove me to be the best I could be. My defensive coach helped make my drills so clean and nice. But the person who influenced me the most was my dad. He worked with me everyday, shaping me to be the person I am today."
"Having an injury sucks in the moment, but it helped me appreciate the game more, and than eventually become a better player," said Jones.
Becca Jones is just getting started in her career of softball. Her main goal for now, is to be accepted into a division one softball school. Keep your eyes peeled, Jones is making plans for Tokyo in 2020.