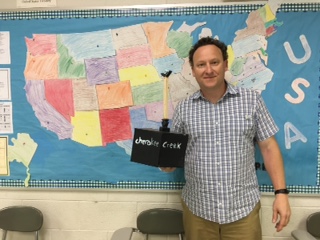 Mr. Lechner is one of the newest teachers at Leesville. Replacing Mrs. Cade back in early April, he has come to our rescue to finish out the end of the year.
Born in upstate New York, he was not very fond of school as a child. In a weird way, he has decided to become a full-time substitute teacher. He found his first job however, working in public relations with the Los Angeles Raiders, an NFL franchise. After that, he went on to law school and practiced law for ten years in Maine.
Throughout this time, he was also a football coach; this led him to begin dabbling in substitute teaching and working with the school.
"I got more involved with the lives of young people and thought I could make a difference in the classroom," said Lechner. "So that's why I decided to teach."
In 2008 however, Lechner and his family decided to move to Cary, North Carolina. Here, he got his first official teaching job at High Point Christian Academy where he taught for six years. He then moved on to the community college level for two more years where he gained further experience.
Last year he made the move to Raleigh and was soon searching for a job. He decided to take the BAR exam (a test to assess whether or not a candidate is competent to practice law in that jurisdiction) in order to return to practicing law. In his time afterwards, he was looking for work, so he searched for a substitute teaching job.
"I realized after I took the BAR I had this gap of time. So I searched for available jobs, and that opening (at Leesville) was there, and it has so far worked out," said Lechner.
He will be leaving Leesville after this year, but he says he has thus far enjoyed his time.