Sworkit, made from the combination of the saying Simply WORK IT, is a new fitness platform that guarantees a more personalized exercise experience. Working out is made easily accessible through the free app, available on Apple and Android devices, where downloaders join the over 14 million users.
On the app, video and verbal instructions are given by professional trainers, primarily focusing on strength, flexibility, pilates, and yoga.
Sworkit was made to keep up with the technology advanced society today, giving busy people who have the accessibility to their phone an easy way to workout. Their slogan, "No gym, no excuse," follows that exact idea.
GOALS
"We strive to provide the simplest way to get a workout in anywhere, anytime, with no room for excuses."
"We aim to delight our users by delivering effective workouts that fit their individual lifestyles."
Premium offers much more
"We will help people around the globe, not only busy adults, but kids, seniors and even patients reach their fitness and rehabilitative goals by making a platform that is accessible anywhere with an easy to follow instructional exercise format that encourages and motivates people to succeed."
–According to the founders Benjamin Young and Gregory Coleman.
THE STEPS
Using the app is extremely simple: All users simply need to these three steps to an easy workout.
Step One: Once the Sworkit app is installed, a login screen will pop up where viewers can either login to an existing account or create one. To create an account, the user's email, password, name, birth year, and weight are required. Next, the app asks users to fill out certain personal goals, whether it may be to lose weight, gain muscle, or even recover from an injury. After accessing an account, the main menu will pop up with different workout styles including strength, cardio, yoga, and stretching. Besides those options, users can also create a custom workout.
Step Two: After selecting a workout routine, users are asked to select a workout length. The exercise lengths range from five minutes to an hour. Because of the easy customization ability, users can easily fit a workout into their day.
Step Three: The final step to is to actually complete the workout, following along with the personal trainer videos and instruction that Sworkit provides. Throughout the time selected, numerous workouts are posted for the user to perform in 30 seconds. Between the different sets, small breaks are given to cool down.
IN- APP FEATURES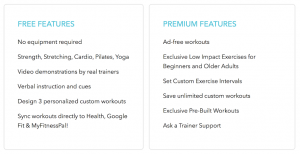 Although the simple app is free, an app with more advanced premium features is available for $2.99 on the Appstore. By providing workouts without equipment, users can have the "gym experience" without the high membership fees or time spent getting to the gym. To help a user keep up with their workout times and stats, Sworkit syncs directly to Health, Google Fit, and MyFitnessPal.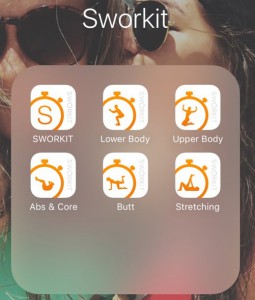 Besides the normal base Sworkit app, Sworkit created different branch apps focused on certain parts of the body. The derived apps include ab and core, stretching, butt, upper body, cardio, lower body, and even Sworkit for kids.