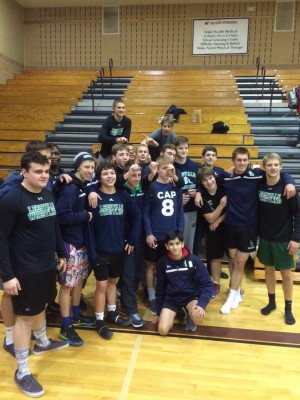 The 2015-2016 LRHS Wrestling team has enjoyed yet another great season. With a record of 36-4, the Pride were able to finish second in the Cap-8, placing behind Wake Forest.
For those of you unaware, a wrestling match is based off of which team receives the most total points. Points can be obtained by pinning your opponent's shoulders on the mat for more than 2 seconds or escaping a pin before it is counted. There are many other nuances in which points can be won or lost, but the main objective is to pin and not get pinned.
As for the Pride's 36-4 record, it does not come easy. The team endures a rigorous practice schedule that involves getting to school twice a week at 5:20 a.m. as well as an additional three hours of practice every afternoon, with the exception of match days and Sundays.
Practices involve going head to head against your own team mate in the mat room, working on specific wrestling maneuvers, strength training, and cardio.
"Practices are really tough," said Dan Mills,Leesville Junior, "but if you work hard in practice then the matches will be easy."
One of the driving forces behind the team's success is LRHS wrestling coach Jason Wyss. Wyss is now in his fifteenth year as head coach. He was a wrestler throughout high school and in college at Campbell University.
The team is now preparing for an intense bout of post-season play which includes the state duals (Feb. 2, 4, 6), regionals (Feb. 12 and 13), and, if they place in the top four at regionals, the state championship (Feb. 18 and 19).