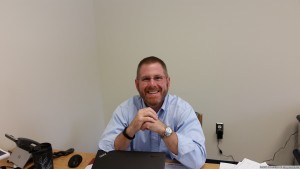 To help inform the North Raleigh community, below is a Q and A with Mr. Livengood — the Pine Hollow Middle School Principal. And, beneath the question and answers is some specific information about the school.
What will your goals be for your first year at Pine Hollow Middle School?
We're going to focus on primarily building the school climate and the culture. Right now, my big focus is on hiring the best teachers that we can possibly find. I'm doing some input sessions right now in the community with parents and with the kids to find out what they're interested in. I think anytime where you go into a situation where there's a blank slate, and there's no "way we've done things in the past", that's really exciting, and building that school climate and culture and pride in Pine Hollow is going to be a major focus for us.
You spent some years at [East] Millbrook Middle School as principal. What can you tell me about your time there–what you learned there that you think you're going to apply to Pine Hollow?
I was principal at East Millbrook Magnet Middle School for 8 years. I was a high school assistant principal for 9 years. I love middle school. That was my first principal position–at East Millbrook. I learned a lot about what it takes to be an effective instructional leader, building manager, and all of that, so I'm gonna build on those experiences. I think if you enjoy working with kids, it transfers from school to school and place to place, so I'm gonna carry all those positive experiences at East Millbrook and hopefully, working with the kids, the parents, the community, and the staff, we're gonna build a great thing at Pine Hollow
What is your favorite part of doing administrative work?
That's a really hard question. I think there's a lot of similarities between being a principal and being a coach. Just like having a good quarterback is important, having eleven quarterbacks is not the way things are done, right? So I think one of the most important things I do is hire. I spend a lot of my time between now and probably May interviewing a lot of teachers. Once you get teachers in place, I think a huge part of what you have to do as an administrator is support the teachers. Happy teachers make for happy students, make for quality learning and teaching. I think it's really important that you know your students, know your kids. I think having a school that's welcoming, that's inviting, that encourages kids to try new things and take a chance, I think all that helps make for a better middle school experience for the kids.
Is there anything that you would like the parents of this neighborhood to know?
First of all, I really am grateful and appreciative for the opportunity to become a part of this community. I told Dr. Muttillo the other day, I've been so impressed with how friendly everybody has been at Leesville Road High School. Not just the teachers–but the students as well. They say hello, open the door; it's been really cool. So I'm really looking forward to building relationships with the community. I want Pine Hollow to be a community school, and I don't want the parents to be shy and hesitant to reach out and let me know if there's something going on that I need to know about. So far, I'm excited and everyone's welcomed me with open arms.
The Mycenaean thanks Mr. Livengood for his time.
Other information about the school:
It will be ready and open by the start of the year-round calendar. Mr. Livengood expects to move his office and admin team into the building by the end of May or early June.
The school will open as a fully functioning middle school, with arts, sports, clubs, and extracurricular activities with all four tracks available at all three grades. That is the goal. There is the possibility that we might not have all four tracks at the 8th grade. It will depend on the number of 8th graders we wind up with. But that is definitely the goal.
Mr. Livengood will continue to hold "meet-the-community" events where he can share his vision and learn about the community.

The next meeting will be

Feb. 4

at 6 p.m. at the Sycamore Creek Elementary Library.

Another meeting will be held on

Feb. 10

at 6 p.m. at Leesville Road Middle School for families currently attending Leesville Road Elementary, Leesville Road Middle, and Durant Road Middle.
The school system should release the start time in early spring.
Mr. Livengood can be followed on Twitter —  @PrincipalPHMS for updates.
As of now, there is no mascot. Mr. Livengood is planning to seek community input into colors and mascot.
WCPSS created a video of the construction and plans. You can view here: