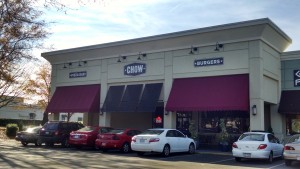 One of Raleigh's native restaurants, Chow, is becoming the place to be for anyone in the North Raleigh area looking to have a good time.
I have eaten at the restaurant on many different occasions, and each time it gets better. The servers are always kind, the food is consistently delectable, and it's never too crowded.
I've always been greeted by the the friendliest hosts/hostesses who in turn, left me in the care of the most attentive waiters. Even when the restaurant is slammed with people, the waiters are always checking in making sure your glass is filled and that everything is running smoothly.
When it comes to food, Chow has a little bit of something for everybody. Even though their pizza and burgers are the biggest items, they also have wings, sandwiches, salads, tacos, and even options for vegetarians.
The atmosphere of Chow is probably one of its most important aspects. Want to hang out and watch sports? The bar, with the top surrounded with TV's, gives customers the opportunity to sit and watch sports no matter where they sit. Don't really want to have a sit down meal? Chow also has a room with high table seats and a pool table to enjoy. Just want to have a nice date night or dinner with the family? You can sit almost anywhere and have a wonderful meal without worrying about the noise level.
In short, Chow is not a niche restaurant. It's a place where anyone in the surrounding community can come to have a good time with their friends and family. Even if you aren't a big fan of wings and burgers, or "pizza" or "sports bars" turn you away, you should give Chow a chance; it may surprise you.