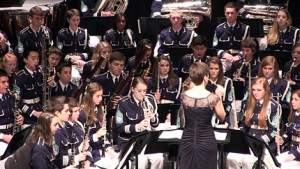 The Leesville Road symphonic band participated in the Festival of Bands competition at Fuquay-Varina High school on October 17.
The 73-person band performed "A Brave New World", competing against thirteen other schools. Overall the Pride had a successful competition, placing third overall in their class, third in drumline and marching, and second in color guard.  
In order to ensure they maintain an excellent standing, the band has done a variety of things: practicing the music since June, band camp for one week in the summer, summer rehearsals two times a week, morning rehearsals from 6:45-7:18, and musical/marching rehearsals during fourth period.
The symphonic band uses halftime performances at football games to prepare for competitions as well. "It's good preparation…It's more of an audience than we typically have at a marching competition, and it's a good rehearsal especially if we have a competition the next day," said Brian Batz, a senior euphonium player.
The symphonic band is not only about competing, but it is about having fun and learning as well. "It's fun [and] a lot of people don't understand what marching is all about. It's fun, seeing the improvement and putting everything you have into it. You learn a lot from band: dedication, showing up on-time, and how to do simple stuff," said Batz.
The Leesville symphonic band's next competition is on Halloween, October 31, at Cary High School.