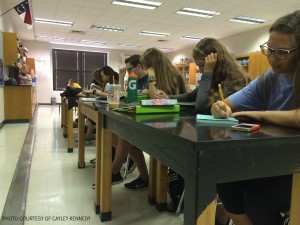 Now that the 2015-2016 school year is underway, all North Carolina schools are officially using the new ten-point grading scale. According to an article in the News and Observer from October 2014, the Board of Education agreed that it was best to move all NC high schools to the ten-point scale, including Leesville Road High School.
Opinions on the change widely vary among teachers, students and parents, but overall, most people support the transition. Since WCPSS was one of the last districts to move to the new scale, students and teachers were more than ready to see the changes it would bring.
Anna Dinges, a junior at Leesville, is one of many students that support the new scale. "I really like the new grading scale. I think it was a good idea to change it since most schools are already on the ten-point grading scale. I think it will help to improve my GPA", said Dinges.
Teachers also support the new grading scale. "I think it's more beneficial to students because it encourages fairness in the system. It levels the playing field," said Mrs.Price, English teacher.
So far, the new grading scale has had positive feedback from both students and teachers. It will be very interesting to see how the new grading scale affects students further into the year.