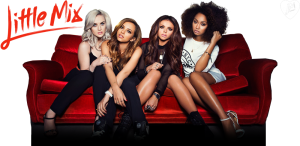 On April 2, the British girl group Little Mix began to trend on Twitter after a video that was less than two minutes long made them international targets from the One Direction fandom.
On a radio show, the girls were asked to "swipe left or right," following the format of the dating app Tinder, to certain male celebrities, one of the celebrities being Harry Styles of One Direction. The hosts' description of Styles as a "notorious lover" was met with looks of disgust and the shady "sipping of the tea" by the four girls as they all fervently say that they would swipe left.
The hosts asked each member individually if they would swipe left or right. Every member said left, while the last to be asked, Leigh-Anne Pinnock, said "I'll take Taylor's advice and swipe left." And holy mucking spit Twitter erupted and Little Mix was trending.
Now, for those of you who don't understand, "Taylor" is referring to Taylor Swift who Harry Styles had a brief fling with back in 2013/2014 (the official dates are disputed). Many Directioners saw this comment as a low blow and immediately went on the offense. Fans stated that if it wasn't for Perrie Edward's engagement to former 1D member Zayn Malik, no one would even know who they were. They also warned the girls not to forget what happened to The Wanted and Naughty Boy.
Some Mixers tried to come to the defense of the former X-Factor contestants, but it was all in vain. #LittleMixDefenseSquad began to trend, but that was also due to the Directioners tweets.
As a member of several fandoms myself, I know how crazy it can get. Especially with boy bands! The comment was shady, ladies. Did it call for this big a backlash? Maybe not. But it was to be expected. Let's hope they take it as a lesson and they learn to bite their tounges next time. 'Cause 1D don't play!