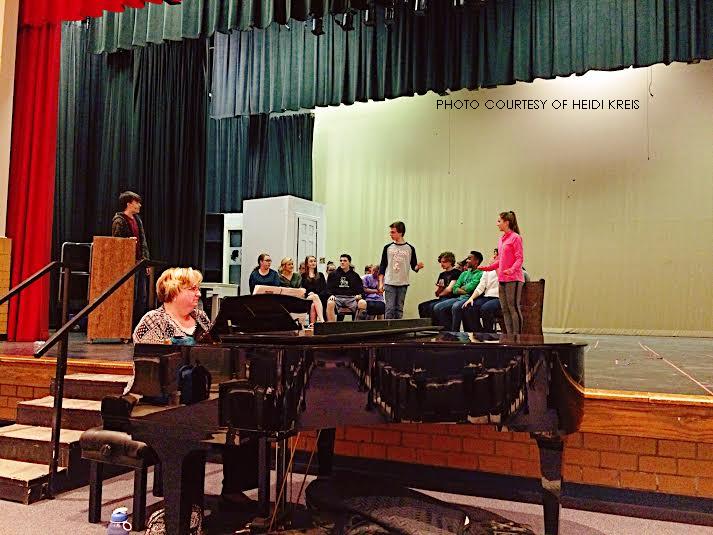 Two weeks away from Legally Blonde's premiere, cast and crew members are working hard to put on a great show since many rehearsals were missed due to eight snow days and many after-school activity cancellations.
Most students don't experience what it's like to see the making of a musical, but  participating in a Leesville production is a larger commitment than what the audience can see. Dancing, singing, props and costume changes are only a few aspects that make up the final product.
Anne Bowers, sophomore and assistant stage manager, explained: "The most difficult part of producing a musical is making sure that all [of] the songs, choreography and blocking work together to make a clean, swift show."
Anna Longenecker, senior, is another student who has put her all into the production of Legally Blonde. Longenecker is playing the lead role in the musical, Elle Woods. "The musical plays a huge role in my life, as in it basically is my life and will be for the next two weeks," Longenecker said.  She has performed in musicals before (Hairspray and Grease) but has never portrayed a character that sings thirteen of the eighteen songs.
Through Legally Blonde, Longenecker has gained insight regarding who she is as a performer and person. "Elle Woods is so confident and driven. I feel like that drive has transferred over to me throughout the the strenuous rehearsal process," she stated.
Longenecker described Legally Blonde as "the epitome of a product of hard work." After a stressful audition process and hours of rehearsal, this hard work will be evident during the musical, which premieres April 16.