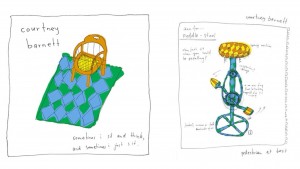 "Put me on a pedestal, and I'll only disappoint you," belts Courtney Barnett in "Pedestrian at Best," the first single off her long-awaited debut album, Sometimes I Sit and Think, and Sometimes I Just Sit. But, despite the high bar set by The Double EP: A Sea of Split Peas, Barnett's newest single does more than meet expectations–it exceeds them.
"Avant Gardner," the best track off Barnett's "double EP," packed a witty punch in the title alone, and handily earned its spot as one of the best–if not the best–songs of last year. Barnett's Dylan-esque wordplay and poetic simplicity, set to dreamy guitar, recounts the story of a normal day gone awry when she has a panic attack; "it's a Monday, it's so mundane," lilts Barnett before she decides to garden "to get [her] mind away from where it's s'posed to be." One line easily sums up the frank and quintessentially-Barnett brilliance in "Avant Gardener": "the paramedic thinks I'm clever 'cause I play guitar/ I think she's clever 'cause she stops people dying."\
"Pedestrian at Best," though it does not strictly tell a story, continues with Barnett's poetic tendencies and unparalleled lyrics, listing, "erroneous, harmonious, I'm hardly sanctimonious, dirty clothes, I suppose we all outgrow ourselves," and rocks a little harder, a little angrier. Barnett describes her "internal monologue" as "saturated analog," and admits, "I must confess I've made a mess of what should be a small success, but I digress, at least I've tried my very best I guess," taking her skill beyond The Double EP, despite its songs' notably brilliant lines and lyrics, like "History Eraser"'s "the stones became the moss, and once all inhibition's lost, the hipsters made a mission to the farm." In "Pedestrian at Best," Barnett manages to epitomize cleverness (sometimes almost too much cleverness), even when bitterly stating, "I wanna wash out my head with turpentine, cyanide/ I decide this internal diatribe."
"Pedestrian at Best" shows an elevated, refined Barnett–a singer-songwriter who is equal parts singer and songwriter, musician and lyricist, rock star and poet.
If its first single forecasts the rest of Sometimes I Sit and Think, and Sometimes I Just Sit, Barnett has crafted an immense debut–exceptional, perhaps, though she promises to exploit whoever calls her that. When Barnett sings, "[my] small success… won't be with me on my deathbed, but I'll still be in your head," she is certainly right about one thing: once heard, "Pedestrian at Best," Barnett's lyrics and her signature Australian drawl will never leave anyone's mind.
Sometimes I Sit and Think, and Sometimes I Just Sit comes out on March 24; "Pedestrian at Best" is available now.