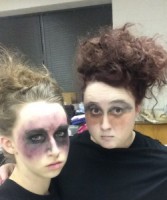 In early January, Leesville's theater department was hard at work on the Before Juliet play, and students have taken a particular interest in the hair and make-up involved in the play.
"This play is supposed to be weird, creepy, dark, and terrifying. The 'Chorus of Darkness'–not main characters, but a group of characters with a crucial role in the play–has been a major focus. Their hair has to be wild and crazy. We make them look like zombies because they're basically dead," said Carson Rainey, head of hair crew.
All members of the "Chorus of Darkness" must go through the same basic procedure when creating their hair. Rainey and other hair crew members begin by spraying the member's head with hairspray, teasing their entire head, putting all the hair in a bun, applying another round of hairspray, pulling out pieces of hair from the bun and hair-spraying these pieces loosely around the member's face.
The make-up is also a very complicated process. The crew must first apply cold cream to the member's face in order for the rest to easily be taken off, apply foundation to both the face and the lips to make the character appear pale, then use black face paint, eyeshadow, and eyeliner to create the make-up designs and set it all with special powder so that it will not melt off under the stage lights.
All involved with the play were only given a total of 17 days to work, so time was of the essence.
"We spent a lot of our winter break coming into school for eight hours some days and came after school every day this past week to prepare as well," said Kirsten Smothers, a member of the "Chorus of Darkness."