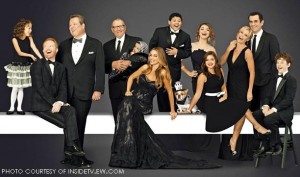 Every Wednesday, I was always excited to watch Modern Family to see what comical conundrum the family would get themselves into. This past week was no different.
The episode 5 that aired on October 22 called "Won't You be Our Neighbor", started with Phil Dunphy (Ty Burrell) trying to sell his next-door neighbor's house. He and his wife Claire (Julie Bowen) are excited to possibly have new wonderful neighbors, when the obnoxious and trashy couple of guest stars Steve Zahn and Andrea Anders try to buy the house. During this time, Jay (Ed O'Neil) forbids to see a girl who is the granddaughter of his arch-rival in the closet business, while Cam (Eric Stonestreet) and Mitchell (Jesse Tyler Ferguson) try to get their daughter switched into another class.
As the episode started with the show's classic one-liner shtick, I was instantly engaged. It's slapstick humor kept me laughing the whole time. Each scenario in the episode was able to fully develop over the course of the thirty minutes show.
The show is very unique in since it is able to tackle and make light of touchy subjects, like same-sex marriage, in a way that it is suitable for the whole family; and is entertaining to watch. The show is able to tell several stories at the same time, and is able to fully develop the plot of each story.
The show is a timeless one that will always be know as one of the best TV comedies. It is a show that looks into the lives of the homosexual, multi-racial, middle class family members that all contribute to one big hectic family.
Modern Family is a show I recommend for all ages, and is a show that the whole family can enjoy watching together.