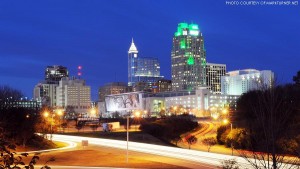 Many people across the county are aware that Raleigh is one of the fastest growing cities in the nation, but few understand why.
In late 2013 in a Fortune Magazine article, Raleigh was named the No. 1 place to retire in the country. In April of 2014 in a Forbes article, Raleigh was also named the No. 1 place to raise a family. It's not everyday that a city wins first place to live for both young families and older people.
So what does Raleigh have to offer that attracts people of all ages, young and old?
There are five main categories to focus on:
Big city vibe/small town feel: Raleigh has an urban downtown area that has great restaurants, concert venues, convention centers, and company headquarters. However, areas like North Raleigh provide a small town feel that includes lots of housing and less commercial development. Also in Wake County are towns like Cary, Apex, Zebulon, and Garner, which provide the small town feel even more than North Raleigh.
Research Triangle Park: Business thrives in the Raleigh area thanks to Research Triangle Park, commonly known as RTP. There are more and more companies relocating their headquarters to this area and big name companies have made this their home because of the luxuries the area has to offer. Additionally, RDU Airport lies close by and just opened a new state-of-the-art terminal, something traveling employees love. Interstate 540 sits close by, which has helped traffic tremendously over the past 10 years.
Entertainment and sports: Raleigh is home to Walnut Creek Amphitheatre, Red Hat Amphitheatre and PNC Arena, which all provide venues to big name bands. Additionally, the NHL's Carolina Hurricanes call PNC Arena their home. Also, the Triangle is home to three ultra-competitive and renowned colleges, including UNC Chapel Hill, Duke University and NC State, which never fail to entertain in sports.
Mild climate: While the winter of 2014 was colder than usual, Raleigh typically has a very mild year round climate. In the summer you can expect temperatures in the 80s and 90s, and in the winter temperatures stay in the 40s and 50s. Spring and fall in the Carolinas attract people from all over the county because of the beauty of the seasonal changes.
Education and benefits: Raleigh boasts the second-largest school system in the state, and is home to NC State, a top-10 public university. Just a stone's throw away are rivals UNC and Duke, both boasting top-5 public and private university rankings. Also, thanks to these schools' medical programs, healthcare is at a high level in the Triangle – a major factor to new families and especially older couples.
The Raleigh area has an Income tax of 5.8% flat that was implemented this year. The sales tax is a modest 6.75% and the median property tax is $1,800, another modest set of digits. Whether young or old, these are numbers you like to hear.
The median household income is $58,000, which is in the top 30 compared to other American cities. Many people credit this number to the RTP companies, which employ solid young employees (part of why new families love this area). Also, its population has expanded 50% since the 2000 census, making it a metro area. People from ages 55-64 increased 97% in that time period, suggesting that more and more older couples found Raleigh appealing too. Plus, around 66% of locals own their own homes, telling us that it won't be hard to find a good neighbor. And speaking of neighbors, crime rates are low in Raleigh, which should appeal to everyone.
After looking at the logistics and breaking down some stats taken over the last 10 years, it's not hard to see why the place to be is Raleigh, NC. Only time will tell what the future holds for such a quickly growing and thriving city.