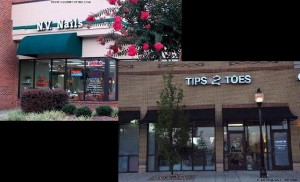 As prom season arrives, nail salons are packed. But how do you know which one to go to? After having a manicure and pedicure from both Tips 2 Toes in Brier Creek and N.V. Nails off of Leesville Road, Tips 2 Toes came out on top.
Tips 2 Toes has a great atmosphere with friendly employees who talk to you and make sure you love your nails. They ask you about yourself so you can pleasant conversations and they also ask you if your nails are good before moving on. When you first enter, the employees offer you drinks and you choose what type of manicure, pedicure, facial, etc. you would like.
At N.V. Nails, the employees are also kind and offer you drinks and talk to you while you are there. However, the service went from feeling rushed to feeling too slow. In one instance, it took two girls about 2 and a half hours for a mani-pedi and another girl a solid 3 hours. The same services, but very inconsistent.
Also, when it came to scrubbing the guests feet, the tools did not seem as though they were washed after they were last used. Nor were they washed after the three girls were finished.
One of the tools used during a pedicure at both locations is damaging to feet. Using a tool similar to a cheese grater to scrub the dead skin off of feet is not the best method.
With similar price ranges, the major differences are the consistency and atmosphere. As stated before, Tips 2 Toes is definitely the better option when it comes to the general vibe of the salon and the amount of time it takes to receive the services.