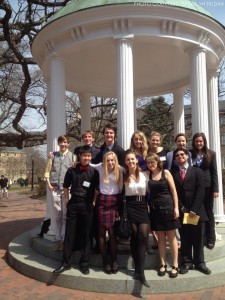 From March 21 to March 23, the Model UN attended the MUNCH (Model UN Chapel Hill) conference. With outstanding participation at the conference, the club is now on the competitive edge among the Model UN chapters in the state.
The conference lasted from Friday afternoon to Sunday afternoon. Students participated in a rolling schedule of activities; those including, a couple parliamentary procedure sessions, five committee meetings, and a couple of advisor meetings. The [Model UN] team was split into 3 committees, each ran by three chairs.
"It was really fun because it was my first time in that setting with kids really passionate about International politics like me and it just fun being on a joint crisis committee. It was a unique experience. Simulating something like the Peloponnesian War is not something you would think as really fun," said Spencer Schneier, senior.
Even though this was their second conference, several members are already standing out among their peers.
The Hudak duo, Sarah Hudak, senior, and Lauren Hudak, sophomore, representing the North African country Morocco, won a distinguished best delegate award in their DISEC committee. The sister-duo brought home the first win for Leesville.
"I think it was just talking a lot, and bring out a lot of important points. Morocco is a really small country so it's kind of weird winning the big award," said L. Hudak.
Despite S. Hudak joining her last year in school, she embraces Model UN. She looks to continuing Model UN in college.
Reflecting upon her experience, she said, "Conference was awesome. We get to learn a lot about foreign countries, parliamentary procedure, and the security council, and you learn how other countries negotiate with each other."
"It was so fun to debate with other informed students and especially interesting to change your own view to another country's perspective. You learn so much more than just debating skills at these conferences; you can't help but learn about other rich cultures, how to compromise and make a meaningful speech, important topics and crises happening in the world today and especially ways to influence people."
The Process
Conferences base the order of events of the United Nations, hence Model United Nations. The sessions are called debates, but they are not necessarily debates. Delegates argue on the basis of their assigned country's position, and they work with other delegates within their committees to draft and advance their resolutions.
Each Delegate's argument originates from the position paper he or she writes in preparation for the conference. The completion of it requires lots of research and with the load of school and activities, this process usually takes several days.
L. Hudak, speaking on the preparation for the conference, said, "Sarah represented Morocco with me, and she had a binder with a whole bunch of tabs with sheets of information. It was really cool but just a lot of preparation."
"The most difficult thing was being prepared for it with the information you already had," she said.
After several rounds of talking points, delegates from coalitions and draft resolutions, proposing a new international law and/or amendment. These solutions are really difficult to pass because they require a two-thirds majority vote.
Despite the rigor of the conference, there was time Saturday night social to wind down. Delegates had the chance to enjoy food and music and dancing at the delegate social.
Started From the Bottom Now They're Here
"This year was my first year so I figured it would be rough and some bumps, and I think we have a solid underclassmen base. With Sarah and Lauren being the best delegates in their committee, it will give us some notoriety, and the club will continue to grow, so I'm excited," said Schneier.
For the past couple of years, the Model UN team suffered low membership. This past year, new energy and leadership has invigorated the club up to regional and state level competition.
The strong performance of the LRHS Model UN team is shown through its passionate members. With three conferences and countless meetings, the member have plenty to say about this year of revival.
The strong performance is steering the club into the right direction. Returning club members look forward to more conferences and times of leisure.
Heather Crew, sophomore representing Libya at the conference, said, "We worked hard and played hard. It was definitely the best conference we have been to so far."
Only a month and a half remains for the 2013-2014 Model UN; however, returning members are currently laying out plans for next year and beyond.
"We were looking to establish ourselves as a school that looks forward to laying a foundation for the future," said Crew.