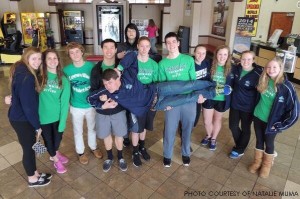 After a successful season, the Leesville swimming and diving team went on to compete against a competitive field of athletes representing  dozens of 4-A classified teams from across the state.
After an impressive performance from the Pride, many athletes qualified for individual events or relays for the state championships.
From Thursday Feb 6 through Friday Feb 7, the Leesville Swimming and Diving team participated in the NCHSAA 4-A State Swimming and Diving championships at the Triangle Aquatic Center in Cary, North Carolina.
After hours of adrenaline-pumping events in a very competitive, laborious meet, the Pride men's team scored 62 points, placing 14 out of 41 teams, and the women's team scored 47 points, placing 16 out of 31 teams.
The girls diving team finished with impressive results; however, they fell short of their seeded positions. Madalyn Beale, junior, placed 16 (232.85) and Monika Ronk, sophomore, placed 9 (304.75) in the Women 1 meter diving event.
"It was great experience to have again and bond with the team," said Ronk.
A couple of the guys stood out above the rest. William Countie, sophomore, placed third in the 100 backstroke (51.11) and Sean Yeh, senior, won the state title in the 100 backstroke (55.06), falling just short of the Meet record.
"It was bittersweet," said Yeh in an interview with The News and Observer. "I was hoping to get a state record today, but it just didn't work out. I went out pretty fast… I've been injured for awhile, so I'm proud for going this fast today."
Leesville looked to the relay events for points. The Women 200-yard freestyle relay team placed ninth and the Men's 200 yard medley team placed seventh in the finals with a time of 1:37.73.
The Women's 400 freestyle relay placed tenth, swimming a cumulative 3:40.08 in the finals and scoring 14 points for the Pride.
Clay Boneham, sophomore, swam in the 400 Freestyle Relay. The relay team placed 16th out of 24, posting a 3:19.64 time and scoring 2 points.
"It was a really fun experience. There were tons of cheering for every event, and everyone was full of tons of team spirit," said Boneham.
The Swimming and Diving team is underclassmen-heavy, meaning there is opportunity for this young team to improve. Spectators should expect many surprises for the next few seasons.