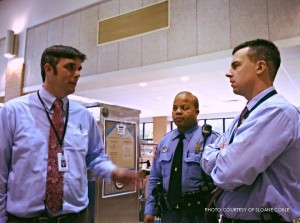 Mr. Matthew Price is the new administrator for students with last names starting with A-D. He replaced Mr. Duvall, and his first day was February 3.
Prior to his time at Leesville, Price's career took him to several places. "I've been an administrator for a year and a half down in Harnett County over at Hills High School. Before that I was a teacher at Broughton for nine years," said Price.
Mr. Price is enjoying his time so far at Leesville, saying, "I have to pinch myself sometimes, it's been going really well. We've got great students [and] great faculty."
And he would like to let his students know he is here for them. "If there's anything you need from me, let me know," Price said.
According to Mr. Price, all administrators are there for their students: "We are here to help, we are a resource…for you guys. Anything I can do to help…otherwise, just keep on [doing what you are doing, because] you are doing a great job," said Price.
We know that he will remain true to his word and help his students prosper. And we hope that Mr. Price continues to enjoy his time at Leesville.