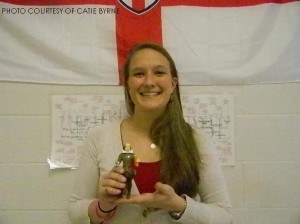 "I love being a student. In fact, if I could be a student for the rest of my life, I would," said Karen Harker, Leesville English teacher, of her decision to study Shakespearean literature in Birmingham, England.
Harker draws her inspiration to study abroad from watching her students' learn as a result of exposure to Shakespearean literature.
"This was my fourth year of teaching, meaning my teaching fellows scholarship agreement is up, and I am able to study abroad. Teaching at Leesville has been a wonderful experience, but I can't wait to be on the other side of the classroom," said Harker.
Another driving force behind Harker's decision to study at Birmingham's Shakespearean institute was her desire to further her education while being able to concentrate on her literary idol, Shakespeare.
"I choose it [Birmingham] because it offers the best opportunities to study all aspects of Shakespeare. I wanted to study the music in [his] plays as well as literature. I'm excited because Birmingham is also located near a local Shakespeare company"
"I feel like it is just the right time for me to leave. As you can see by my action figure of Shakespeare, I have been planning on continuing my education for a long time. I will always love and miss teaching at Leesville, but it is time for me to move on to new opportunities," said Harker.