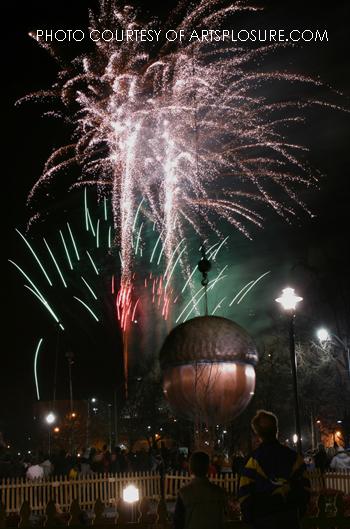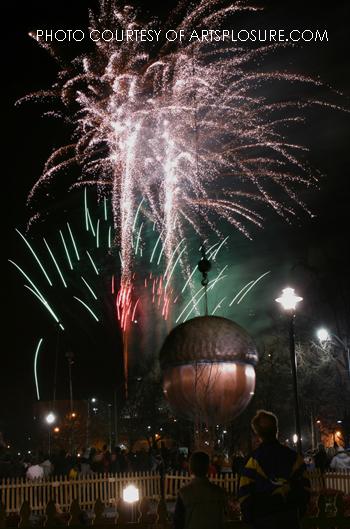 Raleigh is considered the City of Oaks, and every year Raleigh heralds this title by dropping the acorn on New Years at a festival known as First Night.
First Night is an event that not only celebrates the new year but also the arts and community. There are countless performances to look forward that range in variety. Expect to see everything from Big Sam's Funky Nation (an urban funk band), Ten Strings and a Goat Skin ( a young bilingual trad/folk/fusion trio), ComedyWorx (an improv comedy group), and Chuck Davis and the African American Dance Ensemble.
Other exciting activities besides performances include the giant Ferris wheel which provides riders with an amazing vantage point over the skyline of downtown Raleigh.
Also, The People's Procession is a giant parade around the capitol and Fayetteville Street with Rhea, a giant float-like paperhand puppet modeled after the Greek god. The NCSU Pipes & Drums will also accompany the parade.
Lastly, students with younger siblings should consider the Children's Celebration . Children 5 years or younger are admitted free into first night and there will be activities from 2:00 to 6:00 on Bicentennial Plaza and inside the North Carolina Museum of History and the North Carolina Museum of Natural Sciences designed for kids.
First Night is an all-day event from 2:00 pm to midnight, in downtown Raleigh, that hosts countless events and performances for all to come and enjoy as they ring in another year. The event culminates at midnight with the dropping of the acorn and a spectacular fireworks festival.
Starting December 1, admission buttons will be sold at local Harris Teeters and Etix for only $9. Admission buttons may also be purchased at First Night with a cost of $10 for 6-12 year olds, and $12 for adults. Children five and under receive free admission if accompanied by a paying guardian.
Lists of all the events/performances held can be found on their website along with all other information at firstnightraleigh.com
For students who participate in community service First Night is also seeking volunteers. A great way to experience the fun and help out.
Major First Night Events
Music:
–Big Sam's Funky Nation (urban funk band) – Countdown to Midnight
–Ten Strings and a Goat Skin (a young bilingual trad/folk/fusion trio) – Early Countdown
–The Gawler Sisters (folk trio)
–Fran Smith
Comedy:
–Comedy Worx (improv comedy group)
Dance:
–Chuck Davis and the African American Dance Ensemble
Activities:
–Giant Gondola Wheel
–People's Procession (parade around capitol)
–Yoga
–Fireworks show at both the early and actual countdown
For a complete list of all the events visit firstnightraleigh.com