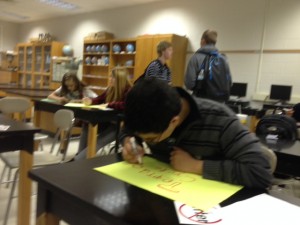 The Environmental Club is undergoing its first official service project ever, the Terracycle service project.
"Garbage that is recycled goes to a processing plant and is converted into new raw materials to make new products. This not only eliminates the negative effects of landfilling/incinerating it, but processing garbage into new raw material releases fewer emissions that producing new ("virgin") materials."  –www.terracycle.com
Throughout the month of November, Leesville students will have the opportunity to donate a variety of items which otherwise would be thrown out as garbage.
The recycling fundraiser is a great way to give to the needy in the local community. Many families have struggled to make ends meet since the onset of the last recession.  Those who donate also benefit the environment providing reusable items, instead of disposing them. A staggering 99 percent of material in the United States immediately becomes disposed as garbage, according to Terracycle.
Shilpa Kancharla, senior and club officer, said, "Everyone can donate, even Dr. Stone (Environmental teacher) is bringing in his household items."
The club accepts just about any item: Old clothing items (shoes, scarves, pants, jackets), cooking utensils, toys, baby products, bedding, towels, cell phones, computers, CD's, video games, jewelry, school supplies, etc.
For students donating clothing and shoes, the club requests that shoes and clothing stay separate. Flip flops and sandals are just about the only items not accepted into this drive.
Students can become involved by signing up for the environmental club during the next two November meetings and help transport items to the Raleigh Rescue Mission at the end of the month. Each item donated is worth 30 minutes of service.
This fundraiser will be beneficial, especially for members of clubs looking for service hours, the Presidential Service Award or even winning awards at the end of this school year. Have fun, be creative, and give what you do not want or need, because what is worth little to one person is worth all the world to another.
Leaders Encourage School and Community Action
The Environmental Club is seeing increased attendance at its meetings. Still, the club is encouraging increased environmentalism and community involvement among its current and potential members.
"We really trying to get the word out that you can help out by donating," said Salonika Tiwari, senior.
The proverb "One man's trash is the next man's treasure is fundamental principal among club members. "Especially since it is the month of November, it is the time of the month to be thankful that not everyone is as fortunate as us," said Kancharla.
"What we want to see is our Leesville program leading the charge on recycling responsibly and really just increasing awareness for the fact there is a correct ways to dispose of your household items," said Lukas Queyquep, senior. "Green is great, it brings people together."
"Next semester, during the spring, we plan on a cleanup," said Kancharla. The addition of service projects will ensure the club's honors status.
With two service projects, the Environmental Club is elevating its credentials. "We don't want to become a honors club just for the name; we hope that with the honors club status so more people can become involved," said Kancharla.
There will be a box outside each science classroom throughout November. Please donate before first period or during pride period. Students can earn hours donating, after signing up for the Environmental club.
LRHS Terracycle project schedule:
| | |
| --- | --- |
| Week of November | Items Being Collected |
| Week 1: 4-8 | Clothing/Shoes |
| Week 2: 11-15 | Toys/Household & Baby Items |
| Week 3: 18-22 | Electronics |
| Weekend Meetup: 23 | Join us to drop off items at the Raleigh Rescue Mission Center! |