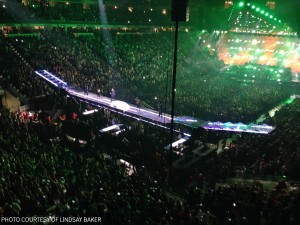 Justin Timberlake's "The 20/20 Experience World Tour" payed a visit to Raleigh's PNC Arena November 13, 2013. This was the fifth show of the year long tour, which began November 6, 2013 in New York City.
The 8 p.m. concert began right on time with Abel Tesfaye, Timberlake's opening act, also known as The Weeknd. The stage setup for The Weeknd was very simple. He stood on a small, raised stage towards the back of the PNC Arena.
This particular artist's music incorporates a dark R&B sound with slow tempos and heavy, rumbling bass features. Although a majority of his music was digitized, The Weeknd was accompanied on stage by a live drummer, electric guitar player, and an electric piano player. Songs that featured these instruments were only that much more enjoyable because of their presence on stage.
In addition to the enjoyable instrumental aspect of his music, I found The Weeknd's singing to be very pleasant. The Weeknd's sound reminded me of Michael Jackson's, with his incredible vocal range and emotional delivery of lyrics. The substance matter of the lyrics, however, was rather vulgar and inappropriate for what I thought would be a generally clean concert. Almost all of his songs talked about sex, partying, women and drugs. These mildly tasteless lyrics also included a variety of curse words which made me cringe. Despite this, I thought The Weeknd put on an enjoyable performance that got the audience pumped up and ready for Justin Timberlake.
There was only a short thirty minute break between the end of The Weeknd's performance and the beginning of Timberlake's. When it was time for Timberlake to begin the show, the lights dimmed again and a montage of images and sound projected over the stage. Shortly after, a twenty second countdown began. Small spotlights projected out of the stage, shining across the audience. When the countdown reached 'one', Timberlake appeared on stage with his back to the crowd, only adding to the suspense of his long awaited reveal. After a few seconds, the beautiful sounds of strings began to play, signaling the beginning of one of his new songs entitled, "Pusher Love Girl." After the short string intro, Timberlake began singing. The melodic lyrics flowed out of his mouth with ease and elegance. By this point, everyone was out of their seats singing along and dancing to the beat.
Timberlake put on an incredible show, performing over thirty songs in a three hour period. As well as performing new songs like "TKO" and "Let the Groove Get In," Timberlake made sure to include his older hits like "Cry Me a River" and "Rock Your Body" in the setlist. He also covered "Heartbreak Hotel" by Elvis Presley and "Human Nature" by Michael Jackson. Timberlake pulled off both styles of music very well. He even managed to include slick and classy choreography that matched the sophistication of his music. Although the dances were not extravagant or unique, the fancy footwork was fun to watch.
Accompanying Timberlake on stage was a small live band, which included a very talented group of brass players. Much of Timberlake's new music features the brass section, so having these parts played live by a great band really gave the music a sharp edge. Along with a band, Timberlake had multiple back-up singers and dancers. Like the band, the extra dancers and singers were very talented and well rehearsed. They all played a part in making the show as great of a production as it was.
The stage on which Timberlake performed was also very striking, taking on an art-deco style with hexagon paneling. This same paneling doubled as a screen that displayed images to set the mood of each of his songs. For example, when he performed "Cry Me a River," a scene of a cartoonish tornado was shown to symbolize the feelings of anger and sadness found in the song lyrics. There was also a heavy usage of colorful strobelights and spotlights, which really added to the overall look and fun party vibe of the performance.
After watching him sing and dance his heart out for three hours, it was evident that Justin Timberlake is indeed a very dedicated and talented performer. Although the show was long, it was one of the greatest productions I've ever seen.
The 20/20 Experience Tour left me breathless and filled with new memories that will last a lifetime.