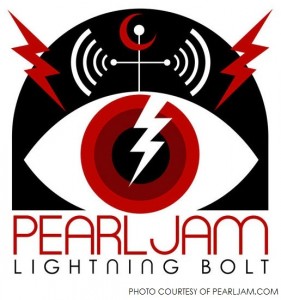 Pearl Jam is releasing their tenth studio album, Lightning Bolt, on October 15. The album is already available for pre-sale via iTunes.
The band has created hype through Instagram, in true millennial style. It has been four years since their last studio album was released, and the anticipation for P.J. lovers is enough to have them drooling over the released single, "Sirens", and the pre-released track "Mind Your Manners".
Listening to these two songs, it appears the new album will most likely blend the grunge from their debut album, Ten, and the band's experimentational music of the 2000s.
"Sirens" is a tune that gives you a somber visual, whatever it may be, and showcases Eddie Vedder's raw vocal talent. On the other hand, "Mind Your Manners" charges in with a more punk approach. Though  much older, Pearl Jam's members continue the energy, creativity and talent as seen on the multi-platinum albums of the 1990s in the video to "Mind Your Manners".
The overall tone of the album seems to be overcast, reflecting the band's hometown, Seattle.
"If you're paying attention to what's going on in the planet, I feel like you can find something to be angry about pretty quick," said Vedder in an interview in Lightning Bolt, the promotional short film made by Danny Clinch.
Though the band's experiments have only reached gold status in the U.S. in the last decade, the group's following continues to see a glimmer of hope in each new album as it is released. In the perfect scenario, the grunge punk and classic rock will lure both loyal fans and a younger demographic.
Overall, the album's prospects are musically promising. With the official music video for "Sirens" having over two million views on YouTube, the international reception has been a warm one. Hopefully, the sales from October 15 on will reflect the existing response.