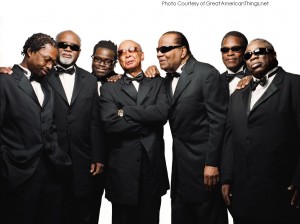 It's no secret that I'm a serious boy band fanatic. With the exception of The Wanted and One Direction, I will listen to any boy band from anywhere. However, the Blind Boys of Alabama isn't exactly the kind of boy band I had in mind.
My musical taste spans across a variety of genres, decades and continents. Korean pop, Latin bachata, British dubstep and Chinese ballads make my short list of genres that I listen to daily.  Nowhere on my list includes any gospel music. So you can imagine my feelings when Mr. Broer, LRHS's newspaper advisor, assigned me the daunting task of writing about the Blind Boys of Alabama. Before listening to their music, I did a little background research.
The Blind Boys of Alabama is made up of seven members. At one point, all of their members were blind, but only three of the current members are blind. They formed at the Alabama Institute for the Negro Blind in Talladega, Alabama in 1939. Since then, they've toured the world, gaining critical acclaim and a successful discography. Back then, when they could only sing for blacks, they were known as The Five Blind Boys of Alabama. However, due to the continuously changing number of members, they decided to change the name to just the Blind Boys of Alabama.
The Blind Boys got their big break with their first hit "I Can See Everybody's Mother But Mine" in 1948. They were given the chance to work with Sam Cook in 1960 but passed up the opportunity to fight in the Civil Rights Movement and performed at events for Dr. Martin Luther King, Jr.
Besides having background information for this article, I don't know what I was expecting to get out of my search. Granted, it's kind of cool that a group formed when "separate but equal" was still a thing is still around today, but there was nothing eye-catching when it came to facts about their music. Was I supposed to be impressed by the fact that they've won Grammys? I'm not. In fact, I give the Grammys as much accreditation as I do Sylvia Browne.
I didn't start this assignment with high expectations and Wikipedia was no help. However, after actually listening to their music, I found that they were a pretty decent group.
The music sounds very familiar; you could probably walk into any African-American southern Baptist church and hear almost identical sounds. While it doesn't necessarily appeal to my tastes, I can see where their success derives from.
There's nothing strikingly original about the Blind Boys, though. Besides the fact that there are three blind members, their musical style is a pure southern gospel with no shtick. I like my music a little shtick-y and, despite how others may view it, I refuse to classify being blind as one. (At least not a good one.) To me, a good gimmick would be one that is original. If I mentioned blind musicians, I could get a variety of responses from "You mean Stevie Wonder?" to "Oh, I've heard of Ray Charles." I know the terms "shtick" and "gimmick" may come with negative connotations, but I assure you, they play to an artist's advantage.
What I do enjoy about the Blind Boys is their ability to take traditional spiritual songs and add a universal message. Southern gospel is known for its original country sound, infused with a bit of blues. While I'm not a huge fan of blues, and I absolutely abhor country music, I appreciate the fact that the Blind Boys can take a genre that is already popular, and use it to make a name for themselves; they didn't have to add or take away much.
Sadly, I couldn't find a lot of songs by them that I liked. Most of them either reminded me of those really depressing songs from the SPCA commercials or when the overly dramatic ladies at church would "catch the Holy Ghost."
I am in no way trying to downplay the talents of the Blind Boys. If you listen to any one of their songs, it's evident that their knack for creating and singing gospel music is perfected. However, its appeal doesn't reach far beyond the borders of gospel, and it continues to attract the same, older crowd. I just simply don't see them pulling in a younger audience.
So, even though the Blind Boys don't appeal to my musical taste, they do appeal to my musical sense. They might not be able to attract a younger crowd, but with their combined talents and experience that have withstood the test of time, I don't see them disappearing anytime soon.