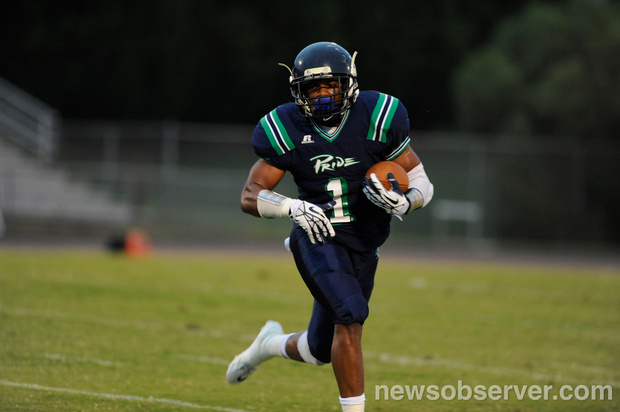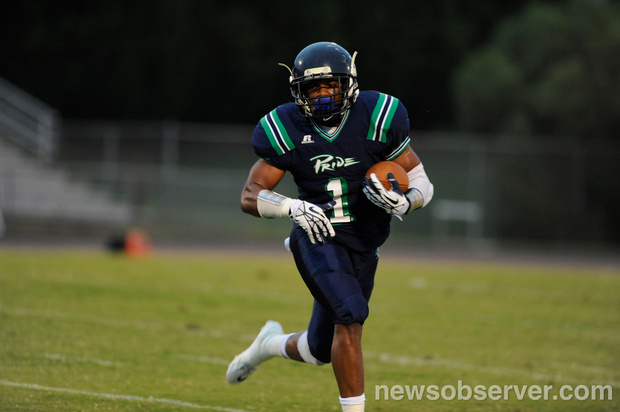 For Malcolm Hitchcock, the final Homecoming of his Leesville football career was not going to be marred forever by a loss. And he was going to make sure of it.
Hitchcock, senior quarterback and running back, scored all four touchdowns as the Pride (5-2) rallied for a 28-17 win over Sanderson (3-4) at Marshall L. Hamilton Stadium on Friday, Oct. 11.
Leesville, trailing 14-7 at halftime and 17-14 at the start of the fourth quarter, was propelled to victory by Hitchcock's 211-yard performance and crucial interception return for a double-digit lead in the game's closing minutes.
Hitchcock punched the ball into the end zone for his third rushing touchdown of the night to put Leesville up 21-17 with 11:57 left in regulation. The Pride defense then stood tall to force a fourth-down turnover inside Leesville territory with 7:04 remaining. The visiting Spartans got the ball back with just over five minutes left, but Hitchcock jumped a Sanderson pass perfectly and ran it back 43 yards to put the nail in the coffin.
"Coach had told me, watch…when they ran that little pivot route. I stayed on [the Sanderson receiver's] shoulder and I saw that ball in the air and I didn't think anything but score," said an exhausted yet satisfied Hitchcock after the game.
No. 1 also averaged almost 6.2 yards per carry en route to 173 total rushing yards."Our offensive linemen stepped it up; they all did a great job," he said. "I got behind them and just kept going…they were moving the ball and I was just getting behind them."
Leesville responded to a Sanderson touchdown on the game's opening possession when Hitchcock found a wide-open Connor Eller, junior receiver, on a fourth-and-7 play late in the first quarter. Eller reeled the ball in for a 34-yard score to knot the score at seven apiece.
Hitchcock then ran for a 37-yard touchdown of his own early in the third quarter, tying the game at 14 at the time. The senior made several impressive cuts on the third-and-11 play.
Sanderson nearly returned the ensuing kickoff for a touchdown, but Marcel Hawkins, senior, chased down the Spartan returner 20 yards short of the end zone. Two minutes later, the Leesville 'D' was able to get off the field having only allowed a field goal — a turning point that Chad Smothers, head coach, called the "biggest play of the ballgame."
"We've started to gain some momentum after some injuries hit us in the Panther Creek game," said a forward-looking Smothers. "We're just trying to get better and better every week. This win gets us back in the Cap-8 race [and] it gives us a vision. We have a plan, we control our own destiny."
As for Friday, however, the night belonged almost solely to Hitchcock. "Every time he plays, it's getting closer to when he won't get to play for Leesville Road," said Smothers. "He's done a tremendous job. He's a battler and he's a fighter."
The Pride visit Enloe next week before entering a difficult, potentially season-defining stretch over the three following weeks. Braxton Berrios, senior quarterback, will make his highly anticipated college commitment Saturday at noon despite missing Leesville's last three games with an ankle injury.