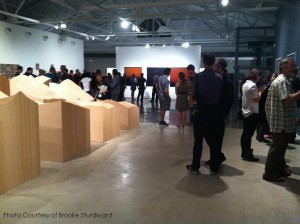 On the first Friday of every month, the city of Raleigh has their 'First Friday Festival'. The 'First Friday Festival' is a citywide celebration of the art around the city and what it has to offer.
At CAM, the Contemporary Art Museum, the night began with their new exhibition 'Surveying The Terrain' featuring "Blue Lake Pass", a piece from Maya Lin. Lin formerly designed the Vietnam Veteran Memorial in Washington at the age of 21. The exhibit also features works by David Maisel, Mishka Henner, Alfredo Jaar, Matthew Jenson, Laura Kurgan, Vik Muniz, Trevor Paglan, Doug Rickard, and Clement Valla.
Other establishments, such as Artspace, celebrated the night by inviting guests into their galleries to view the exhibits that they have on display. "Sometimes restaurants will have events, too," said Kristy Lynn Smith, a Visitor Services Coordinator at CAM." Although each establishment has their own purposes to First Friday, CAM's is 'Community Involvement.' Staying open late and keeping the exhibitions open gives an opportunity for community members to see what's on view 'after hours'. Guests can also view "special performances and an open project for all ages, the 'creation station," according to Smith.
"First Friday brings people from all over Raleigh together to embrace the new style of art culture," said Mikayla Jones, a teen council member at the museum. "First Friday is a magical night at CAM, when the museum is reborn. The public has a chance to embrace and experience the artwork from a new view."
Mary Silber, a local mother of two children, appreciates the flexibility and openness of the event. "I know that once a month I can come here with my kids, and they can learn about art, and we can all really enjoy the city." said Silber. "The art inspires them and myself. It's more than just a little celebration…it gives me incentive to do more things, to contribute to community."
The next 'First Friday' will occur on November 1.