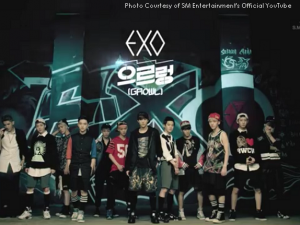 So far, 2013 has proved to be a great year for Korean pop music. G-Dragon's "Coup D'etat" has just broken Billboard's top 200 international albums and KCON 2013 was a huge success. But one group of young men stood out the most: SM Entertainment's EXO.
EXO is a 12-member Korean boy band that debuted in June of 2011. They are split into two parts, EXO-K and EXO-M. They perform the same songs translated into Korean and Mandarin.
On June 5, they released their first full length album XOXO. Just like their previous mini-album, it was released in two versions — a Korean "kiss" version and a Mandarin "hug" version. The title track, "Wolf," was an instant hit, peaking at #25 on Billboard's K-Pop Hot 100.
The repackaged version was released on August 5. It contained three more songs and an additional title track, "Growl." Collectively, both versions of the album topped music charts in China and Korea within days of their debut. "Growl" is EXO's most successful song to date, peaking at #2 on KBS Music Bank.
In the two years since their debut, EXO's popularity has skyrocketed. Though it may seem like a contradiction within itself, they're actually a talented boy band. The large number of members allows each one to excel in different areas.
EXO seemed like pros from the beginning. They were giving charismatic performances since their debut.  If you don't already know that they were a rookie group, you can't easily tell.
They showcase their carefully practiced dancing skills in their most recent videos. One of them even features 360 degree choreography. Kris, leader of EXO-M, even revealed that it took EXO months to perfect their "Wolf" choreography.
The member's talents and personalities combined is what attracts people to them. And it definitely doesn't hurt that they're nice looking.
They might even be a little too nice looking. Critics of the group say that they focus more on their visual appeal and less on their talent.
The main victim of criticism is EXO's leading man, Kai. Known as the lead dancer and face of the group, spectators feel as if he only gets attention because of his looks. Regarded as SM's "golden boy," fans even complain about Kai always being in the middle, and those with arguably more talent receive considerably less attention.
Nonetheless, they were one of the more popular rookie groups of 2011 and earned many, dedicated EXOtics. Even though the group is split into two parts, when they come together, there is an undeniable chemistry. They're able to match each other's energy and give one great, unified performance.
They performed on the Goodbye Stage on September 7 and are currently on hiatus. 2013 was definitely EXO's year and EXOtics, like myself, are eagerly anticipating what they have in store for next year.