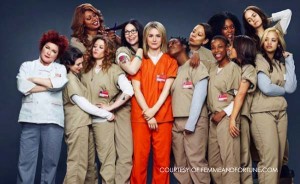 Orange is the New Black is a dramatic comedy series on Netflix following the prison life of Piper Chapman, a woman arrested for a ten-year-old drug charge. Piper's story is a compelling, honest and blunt portrayal of life in women's federal prison.
The story begins with Piper revealing the story behind her 15 month prison sentence to her fiancé, Larry Bloom's (Jason Biggs) family. Viewers are transported ten years ago to an airport where Piper and Alex Vause (Laura Prepon), Piper's lesbian lover and international drug smuggler, are caught in a drug deal overseas.
In prison, Piper finds herself face to face with Alex, Crazy Eyes (Uzo Aduba), an obsessed admirer, Red (Kate Mulgrew), a drug smuggling Russian cook and Sam Healy (Michael Harney), an intrusive prison officer.
Orange is the New Black bravely explores themes often censored or watered down on network television such as lesbianism, mental illness, racism, prison corruption, drug trade and murder. These themes give characters an authenticity rarely seen among other prison shows.
Prisoners segregate themselves by race, beliefs or sexuality. Piper, however, cannot find any groups to accept her after accidentally insulting Red's cooking. She is starved out, dubbed Crazy eye's prison wife and struggles to cope with prison life around her ex, Alex.
Despite her orange jumpsuit, it easy to relate to Piper's inability to cope or fit into prison life because everyone has experienced the discomfort of fitting into a new environment.
Danbury correctional facility's cast of characters are all shown in a more human light with flashbacks to their life prior to prison.
Viewers see ordinary women struggling with poverty, bad family situations and illness. The arrests vary from petty theft to murder; but the humanity in each character's story is staggeringly relatable. The crimes characters in OITHNB commit seem justifiable because viewers care about the inmates' lives more than their immoral behavior.
The women of Orange is the New Black have commanding screen presence; whether funny, depressing, horrifying or scandalous, the characters are riveting and never become stagnant.
As the show progresses, every prisoner's story is bonded together through humor, death, corruption or prison politics. However, OITHNB does not overplay comedy, drama or gore to attract ratings. It doesn't need to; viewers are hooked on the authentic portrayal of Piper Kerman's life as a prisoner of Danbury correctional facility.