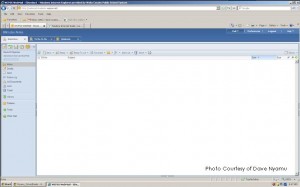 This year, Wake County has implemented a rule prohibiting students from using their personal e-mails to communicate with teachers. Students have been assigned a WCPSS e-mail created by IBM Lotus. All school assignments, questions, or other educational sites must go through these e-mails.
The policy change has sparked some controversy, as technical difficulties have been a common theme throughout the first days of this school year.
Some students would consider IBM Lotus a downgrade from the predominantly used Gmail. While Gmail allows 15 gigabytes of e-mail storage, WCPSS WebMail only allows 250 megabytes. This gives Gmail over 61 times more storage than Leesville students' new e-mails.
The very basic interface of IBM Lotus may turn some students away from the new e-mail. However, the e-mail comes with a contact list and a calendar. It's not much and probably won't even be used by most students.
One interesting feature: you don't have to know any students' e-mail. If you type a students' name into the "to:" bar, the system will search the students' e-mail. Of course, this feature may be useless because students probably will not use this system with each other.
IBM Lotus does not work well with Google Chrome, forcing users to use Internet Explorer. It's well noted Internet Explorer is much slower than Google Chrome, especially with widely used Google Drive.
WCPSS mail may not offer the technological features of Gmail or Yahoo!, the e-mail system also prevents students and teachers from inappropriate communication; it may be an example of the actions of a few tainting the trustworthiness of many.
Several incidents last year of non educational student-teacher relationships last year may have sent county board members to follow through with the e-mail policy.
"The district wants to make sure that nothing inappropriate goes back and forth," said Mr. Gilliland, librarian. "It protects the students, parents and teachers at the same time."
Gilliland estimates the student e-mails to be up and running without difficulties in two weeks to a month. "You would think it would be simple, but I think it's just the sheer numbers [of students in the county]."