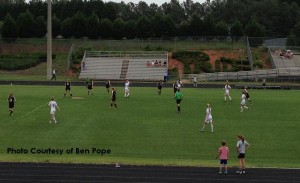 Propelled by a dominant performance in the possession and shot categories, the Leesville women's soccer team routed Holly Springs 3-0 on Friday, May 10, to advance in the N.C. 4A playoffs.
"I thought we were ready to play," said Paul Dinkenor, Leesville head coach. "We were intense…(and) we had the right focus."
McKenna Crenshaw, junior, struck first in the 29 minute with her eighth goal of the season. Crenshaw's shot from a sharp angle to the right of the goal bounced off the Holly Springs goaltender and into the net.
"I feel like (that first goal) really got us started and going," said Crenshaw. "It really boosted us."
Dinkenor agreed. "We played very well in the first half," he said, "and got a goal at a critical time from the second line."
Mackenzie Dipper, sophomore, gave the Pride a 2-0 cushion with 42.7 seconds remaining in the first half. Dipper's shot from 35 yards out curled beautifully into the far corner to a loud roar from the crowd.
"Right when I hit with my left foot, it felt really good. I saw it going in right away," Dipper told the News & Observer after the game.
Dipper then added her second of the night and 13th of the season with a breakaway tally in the 79 minute. The talented forward deked past several Holly Springs defenders before blasting the ball into the left side of the net.
"I was glad to see we got a third goal late," said Dinkenor. "It was a real reflection our dominance throughout."
The Pride pounded the visiting Golden Hawks with a continuous avalanche of shots throughout the 80-minute match. Mary Kate Bowers, junior, was stymied on several close chances while Kelsey Reeves, senior, received a steady supply of corner kick opportunities.
Meanwhile, Leesville's defense, led by Anne Cushman, senior, and Nicole Park, senior, held Holly Springs to just one total shot on goal. "We looked pretty good defensively," praised Dinkenor afterwards. "Our goalkeeper didn't really have a shot to save."
Holly Springs' loss concludes their season at 14-6-2. The win, however, advances Leesville (17-4-1) to the third round of the postseason; they will take on Jordan High School on Tuesday, May 14, in Durham.
"We're such a family; we want this so bad," said Crenshaw emotionally after the final whistle. "We don't want our seniors to have to go just yet."