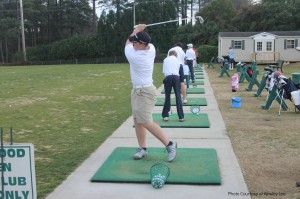 Leesville golf has a new coach, Andrew Wilkinson, who has led the team to success this year.
The team had their first non-conference match, the high school kickoff classic, in Buies creek at Keith Hills Golf Club. They won first place out of twenty teams with a score of 297.
They participated in two other non-conference meets: the Neuse Classic and a high school tournament hosted by the Carolina Golf Association. They finished first out of twenty teams yet again at the Neuse Classic with a score of 295. At the tournament hosted by the Carolina Golf Association, they placed eighth out of fifteen teams with scores 336 and 327 on a tough course.
"All of the players on our team are great guys. Some of them have been best friends for many years and if they are not playing on the golf course they are all hanging out with one another. The chemistry is very good and there is not one player that is not a team player. That is why I think we will go very far this season," said Wilkinson.
The team's 9 hole average is 144, and Carter Jenkins, Zach Seabolt, and Jake Hutchinson are all placed in the All-Conference standings. Jenkins is ranked first, Seabolt is tied for fifth, and Hutchinson is ranked eighth.
"I coach golf because I love the game of golf, and golf is such a great teaching tool for life. To me golf is a lot like life it teaches us so many lessons that if we have a bad shot or a bad day that we move forward to the next hole or next day and we try again to do better the next time", said Wilkinson. "Golf is considered a gentleman's game, and it teaches you how to be honest and sometimes you have to call penalties on yourself and by doing that I think it makes you a better person."
Wilkinson has obviously been a positive influence on the team's athletes–both as a coach and as a role model. The team aims to continue to improve as the season continues.