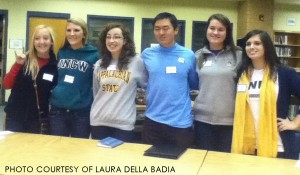 After weeks of advertising, the Senior College Panel was held on January 3. At 6:30, Leesville seniors, juniors and parents met in the media center where college freshmen shared experiences and advice. The represented colleges were UNC Chapel Hill, UNC Wilmington, UNC Greensboro, NC State, Appalachian State University and East Carolina University.
The six freshmen talked specifically about several factors of college, such as orientation, advisers, dorms and roommates. In trying to find roommates the website RoomSurf was recommended. Another student warned to keep an eye on the laundry, as hers had been stolen.
When academics were broached, Larry Han, UNC-CH freshman, suggested to take more honor classes because they are smaller and have a better grade distribution of As. All teachers have different ways of letting students know about grades and work assignments. A few classes only have a midterm and a final.
Subjects then wandered to areas of money, meal plans, what to take to school and spending time. All six students emphasized the need to balance school work and social activities. For every hour of class, two to three hours should be spent reviewing material.
"I think it's always important to give back and there were a lot of things I did not know; some surprises in college that I hadn't expected graduating. I wanted to share those experiences so other people wouldn't be quite as surprised," said Han after the event.
"The most surprising thing would be the amount of people you meet at school and how unique each individual is," said Han. "The classes are more difficult and challenging."
Han hopes hopes students feel more comfortable in transitioning from high school to college. "Leesville has provided them with a good foundation for college," said Han.
After the event, Leigh Magee, president of the PTSA, commented that they did help future students and parents gain information about college that might not have been available to them before. "People asked great questions and these students were fabulous!" said Magee.
Magee hopes to have next year's panel in a larger space, such as the cafeteria where last year's senior class bought a PA system for the room. Overall, "it was amazing!" said Magee.
The next event Magee looks forward to will be held on April 8, 2013. Parents of current college students will share their experiences and answer questions from other parents.