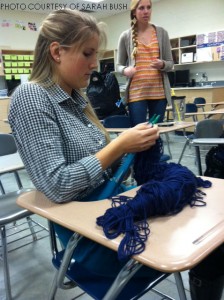 Want to learn a neat, new hobby? Then Leesville's new knitting club is just for you. Put together by a group of close friends, Rachel Radulovich leads the club, the first of its kind.
"I love to knit! And it's fun. It's cool that my friends can come together to make a club like this to teach other students at Leesville a good life skill," said Claire Coward, senior.
The club plans to meet at least once a month, but for the first few months it will meet more frequently to give more Leesville students the opportunity to attend. The first meeting consisted of experienced knitters teaching other Leesville students how to knit. It didn't take long for new knitters to knit without any help at all.
"I'm learning something I've never tried before. Everyone in the club is really nice and patient; it didn't take me very long to get the hang of it. I want to make a headband or something," said Rachel Mulligan, senior.
Because she was in knit club in her middle school years, Coward plans to help Radulovich organize meetings and plan activities out for future meetings. The next meeting will be sometime in the end of January.