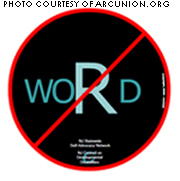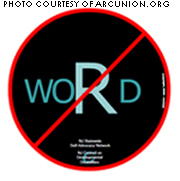 Dictionary.com defines the word retarded as "a person who is stupid, obtuse, or ineffective in some way." It is an archaic term created in the late 1400's to classify someone with a mental defect. Today, many associate the word with people who have physical or mental handicaps. The infamous R-word is still a popular insult towards the handicapped.
Calling someone with a mental or physical handicap the R-word can be as vile and cruel as a racial or homophobic slur. People have no more control over the color of their skin or who they love than disabled people have over their limitations. Both insults can demean people, but are excused as minor indiscretions. Said seriously or not, these words are a hurtful form of bullying.
The R-word is casually thrown around conversations of the young in the halls of Leesville. If similarly hurtful words are accepted as normal in a society, people will say them, no matter how damaging they are.
Corianne Stempien, junior, uses the word, but doesn't mean to offend anyone. "I'd never call a disabled person that, but I use the word retarded as a general insult."
Kyra Doody, sophomore, does not agree with people using it as an insult.
"I used to call my little brother retarded, but I stopped because I felt bad. It's just not a nice word to say, and it's insulting to handicapped people," said Doody.
People often justify calling friends a derogatory term because they feel being comfortable around someone lessens the impact of an insult. While this is sometimes true, it's not right to assume it is not detrimental for the other person. Being friends with a disabled person does not make it acceptable to call them the R-word. I learned the hard way, and because of the experience, I have vowed to swear off the word.
Kay McMillan, a senior and teen living with cerebral palsy, changed my perspective on the word. It happened in an ordinary lunch conversation at school. I don't remember what I called the derogatory R-word, but what I can't erase from my mind was her reaction. A look of devastation and disappointment. A mutual friend later pointed out to me that I offended Kay, and I privately apologized for my thoughtless words.
McMillan says the R-word offend her because "its Latin root means slow. It has to do with speed and motion, not your intelligence level."
She feels that people should address those with disabilities as people first, instead of adding a demeaning label, such as the R-word. Rosa's Law, a federal law, bans use of the R-word in education and labor laws, and reinforces this principle.
McMillan feels that person-first language is a sensitive and encouraging replacement of the R-word.
"Person-first language is when you say a person with a disability instead of saying the word retarded. The thought behind it is that we are people first and our disabilities come second," said McMillan.