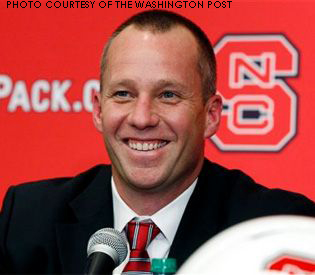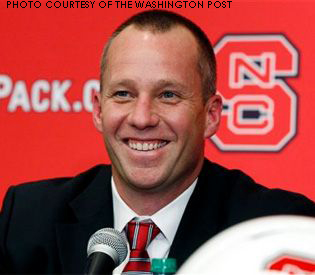 About a week after firing six year head coach Tom O'Brien, NC State has hired former Northern Illinois coach Dave Doeren.
NC State has been solid, with 4 bowl games, and 5 wins in a row against North Carolina. Still, athletic director Debbie Yow felt like the program needed to be taken to another level.
She clearly feels Dave Doeren is the man for the job. He will earn $1.8 million for five years, and a two year extension if he can get NC State to the Top 25 in his first two years.
Doeren led Northern Illinois to an 12-1 record as well as a BCS bowl game, the first in the school's history. He has been coaching at the collegiate level for 18 years, including a linebacker coach at Kansas and defensive coordinator of the Wisconsin Badgers.
This year Doeren coached the ninth ranked offense in the nation. Northern Illinois ran the spread offense with Doeren, a far cry from the pro-style offense NC State ran under Tom O'Brien.
The pro-style offense is often centered around the running game. If a team can get the running backs going, it opens up the defense for the quarterback to pass.
The spread offense Doeren is bringing will be different. The quarterback is the running and passing game. With the graduating of stellar senior quarterback Mike Glennon, we could see this implemented as soon as next year. Doeren's plan on offense will be to get a dual threat quarterback, or a quarterback who can run and pass effectively. From there, they will spread receivers throughout the line of scrimmage, and let the defense decide which threat they will guard.
With a new system, and a new quarterback, we will see a totally revamped NC State team next season.
James Hardy, sports and entertainment marketing teacher, is enthusiastic for the next season with Doeren. "I'm excited," he said. "Hopefully he can bring the high powered offense from Northern Illinois here to State."