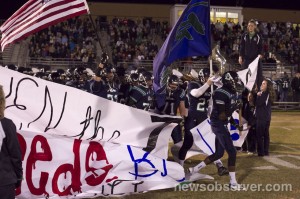 The Leesville Pride football team avenged a disappointing regular season meeting and advanced to the second round of the N.C. 4AA football playoffs with a 43-13 victory over Heritage on Friday, Nov. 2.
The Pride (11-0) scored early and often en route to a decisive 36-0 halftime lead. Kamir Bowen, senior, recorded the game's first touchdown before Braxton Berrios, junior, racked up three scores in a row.
"Our performance was great," said Evan Parker, senior quarterback, who helped to spearhead the attack. "The [offensive] line was called on to step up and they did. The defense was fantastic all night, made big plays for us [and] got turnovers.
Leesville dominated the ground game, out-gaining Heritage (6-6) 337-102 in rushing yards. Berrios led the team with 108, while Parker, Bowen and Maurice Lauchner, senior, each ran for more than 60. De'Rahjai Robinson, senior, also added a receiving touchdown on a 43-yard Parker pass.
Friday's rout was a drastic turnaround from the two foes' regular season showdown. Heritage nearly upset the undefeated Pride back on Oct. 19, as Leesville was forced to rally from a 7-3 deficit at the start of the fourth quarter to win 17-14.
"Last time, the kids…acted like we had lost," said Chad Smothers, head coach. "They kind of felt responsible for our bad performance." This time, "We executed better…We played with a little bit of a chip on our shoulders."
The comfortable lead allowed a number of Leesville underclassmen to gain valuable playing time and playoff experience during much of the second half. The Pride were also given the opportunity to try out an unconventionally short and lofty kickoff tactic, which effectively kept Heritage's dangerous return game in check throughout the night.
Friday's halftime entertainment was split equally between the Leesville and Heritage bands, as the visiting Huskies celebrated their first-ever state playoff appearance and class of football seniors. Despite their mediocre 6-6 record this year, up-and-coming Heritage could certainly be a team to watch next season.
This Friday, Nov. 9, Leesville will travel to Apex for a second-round meeting with Middle Creek (11-1); the Tri-Nine conference champion is coming off of a 31-21 first-round victory over Wilmington Laney. With a win, the Pride would move on, in all likelihood, to a Nov. 16 state quarterfinals match with undefeated Garner (11-0), the only team to have beaten Leesville since Nov. 2010.
"It's easy [to win] when you've got all these players behind you, putting in all this work," said Parker. "[I'm] just happy to be out here, happy to be a part of this team and this family, and [I'm] ready for next week.