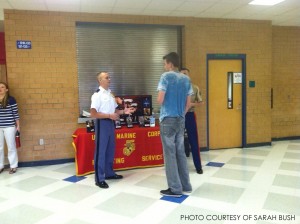 During September, two Marines, Zeitler and Oshea, will visit Leesville every Tuesday. They both graduated from high school and went straight into the Marines.
"Where I grew up, there wasn't much to do besides work in a fast food industry or some sort of  factory work. I wanted to do something more with my life," said Oshea.
Sometimes people join the Marines because they are interested in giving back to their country and protecting it, while others do so because it is one of their only options.
"I could have gone to college, but I really wanted to give back to my country. I began being interested in joining the Marines when I was a sophomore in high school. I always knew I would join," said Zeitler.
Participating in the Marines is a huge commitment. Sacrifices have to be made in order to dedicate oneself to one's country.
"My family was very supportive when I told them I wanted to join the Marines. They were very proud of me; I am the first one in my family to join. They were worried that I would miss home and miss them, and I did while I was training, but it is definitely worth it now," said Oshea.
"My parents didn't support me joining the Marines. They wanted me to go to college or join the Air Force. My father and grandfather were in the Air Force, so they didn't like the idea of me not joining, too. Even though my parents didn't support me in the beginning, they are very proud of me now," said Zeitler.
Many students speak with the Marines to learn about the process of becoming one.
Chris Rushing, senior, said, "I've wanted to do it since middle school. I want to protect my country." He said he spoke to Oshea about the challenges of being away from home. "I think that it will be difficult, but I don't care. To get anywhere in life you have to put work in, and I'm willing to do that."