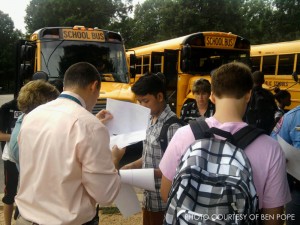 A disorganized new bus schedule has thrown a major obstacle into the usual Leesville transportation routine.
A crowd of 750 incoming freshmen and other perplexed students had their first day of bus travel interrupted, delayed or simply cancelled on Monday, Aug. 27. Wake County's new school bus system experienced a plethora of hiccups in its opening hours.
Leesville began Monday with 23 bus routes covering a whopping 351 stops, some of which are as far as eight miles from the school itself.
The new 2012-2013 school choice policy — which allows all rising high schoolers the opportunity to attend the school of their choice, regardless of their home address — transformed Leesville into a popular destination for students throughout Raleigh. As a result, this year's buses have a far larger area to cover, and that proved to be an issue on the first day.
Mrs. Moore, assistant principal and Leesville bus coordinator, "I don't know specifically what went wrong. We had a lot of people who didn't know what buses they were supposed to be on…We tried to handle any problems that came up."
William Welker, sophomore, was irritated because "they combined routes 9 and 11." Now, Route 9, which covers a large area to the northeast of the school, makes 31 total stops — tied for the highest among all of Leesville's bus lines.
Per Mapquest.com, the direct driving distance from Leesville to Route 9's endpoint is just 5.6 miles, but meandering detours to a number of other neighborhoods extend the trip into a sizable 23.6-mile journey.
Abbey Tarnowski, sophomore, said, "My bus would pick me up at 5:45 [a.m.]. No one rides that bus anymore."
Following the opening-day disaster, Anthony Tata, Wake County Schools Superintendent, added four buses back onto the county-wide schedule after originally cancelling 52 total routes before the school year began. Leesville acquired one new bus in the rearrangement — Route 24 will now cover 11 stops to the southeast of the school.
Hopefully, the county's first-week issues will soon give way a smooth year of transportation ahead.