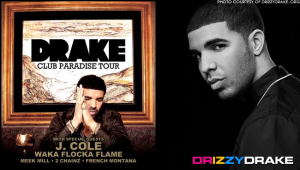 Drake's "Club Paradise" tour was supposed to make its way to Raleigh on May 22, at the Time Warner Cable Music Pavillion at Walnut Creek. The long-awaited singer/rapper/songwriter was scheduled to perform alongside J Cole, Meek Mills and Waka Flocka Flame.
Unfortunately, to the dismay of many of his fans, his concert had to be rescheduled for Wednesday, June 20. News of the cancellation spread fast on Twitter, where the rapper tweeted about his situation. –"@Drake: Headed home at 6am to be with the family…to all the Raleigh and VA fans I will see you soon. My apologies."
No specific details of his situation have been released, besides the fact that it was an unexpected family emergency.
"I'm kind of disappointed that the concert wasn't on Tuesday, but I'm glad it wasn't cancelled altogether. I still get to go, and it won't be on a school day this time," says Alex Woods, a senior who plans to attend the concert.
Phone calls were made to the houses of fans who bought tickets. It was words from Drake's representative, who "thanked the fans in advance for their understanding during this time".
All tickets that were bought previously (for the May 22 date) will be honored at this concert. Tickets will continue to sell up until the new date of the concert for anyone who wasn't able to buy a ticket for this one.
So to the fans, Drake will come to Raleigh– just not until June.