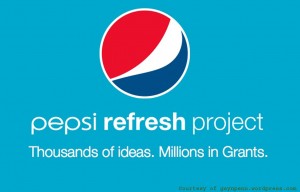 On Friday, January 6, the Leesville Road band program received the one belated holiday gift they had been waiting nearly a month for: a $25,000 Pepsi Refresh Grant.
According to Elizabeth Perry, senior and drum major, the grant will provide the funds necessary to purchase new instruments for their aged, worn-out counterparts. Said Perry, "There may be other smaller problems that can be fixed, but the instruments were our main focus."
The Pride first began vying for the Pepsi grant in late November. Grants were handed out on the basis of support, so the school whose community voted the most had the best opportunity to win the money. Perry took notice of the outpouring of support from the entire Leesville community.
"Teachers began designating time for texting in votes during the school day, which was a huge contributing factor to our winning the money," said Perry. "That's big for the band; it shows that people want us to do well and are backing us, and that makes us proud."
In December, the Pride released a series of videos explaining their cause. Stephen Bryant, sophomore, felt that the videos were the deciding factor in the contest. "People care about the arts and the band and want us to succeed. We're glad that people are interested in us," said Bryant.
Winning the Pepsi contest is a critical step in the social ascension of the band; increasing support has paid off for the band and its fans.
Mr.Serina, band director at Leesville, said, "The band is incredibly fortunate to belong to such a supportive school and community. I'm proud that everyone rallied us and supported the Leesville band program with this opportunity."