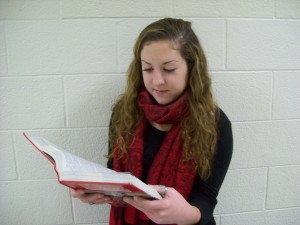 Governor's School
is a six week residential program where rising high school seniors take a course and live on college campus. The courses vary from core classes like Math and English to electives, such as Theater and Dance. There are eleven areas of study to apply to the wide variety of interest. The Governor's School of North Carolina offers two college campuses to reside at during the program: Salem College and Meredith College.
The first applications for Governor's School were due Monday, October 24. Yet applications are only the first part in the process; students applying for positions in subjects such as Art and Drama have to actually addition for their spot as early as November 3.
Aly Moser, junior, is applying to the Governor's School for French.
"I'm applying to French because it's interesting and I want to expand my knowledge in that subject. Also, in college I would love to study abroad in France and it would be helpful to know the language," said Moser.
Leah Mahr, junior, is applying to Governor's School for Social Sciences.
"I want to be a psychiatrist, so I like looking at the reasons why things happen in government and in America," said Mahr .
Yet Governor's School is competitive and because of recent budget cuts only two students per subject will be selected from each county. So while students may be qualified for Governor's School doesn't necessarily mean they will get in.
According to Leesville senior Brooks Jordan, Governor's School is the place to be. Jordan attended Governor's School for chorus.
"Governor's School is definitely life changing. I had never been in an environment before that had so many people wanting to learn. People want to know you and are so curious about your opinions. The teachers and students there are the best of the best," said Jordan.