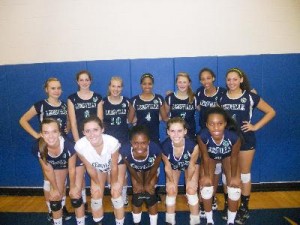 Thursday October 6, the Leesville Pride Volleyball beat number one, undefeated seed, Wakefield.
"We did awesome," said varsity coach, Taine Merganthaler.  "I'm so proud of us." The lady pride beat them 3 sets to 0 sets. The score of the sets were 25-18, 26-24, and 25-21, all wins for the Pride.
When asked about why we won, Allison Stone, junior and setter, said, "We really had a drive to win. We wanted it more than they did. They thought they were going to come out and beat us in three, but we beat them,"
"We made smart plays and limited our mistakes," said junior and other setter, Zipporah Foster.
To lead to the victory, though, the Pride had to come back from downfall. "We stayed completley positive the whole time," said Foster.
The games weren't easy for the girls. "We stayed positive throughout all the games. If we started to get down, no one said mean things. In a sport like volleyball, there can't be any negativity if you want to win," said Foster.
In the first, the Pride fell 8-2 and came back slowly, one point at a time. Wakefield eventually jumped back out to a 15-11 lead but the Pride came out with a 14 point run to lead to the 25-18.
During the second game, Wakefield came with hard blows and good digs, but the Pride, after a timeout, the Pride made another comeback, accelerating for an 11point run that made the score 24-21. The Wolverines came back and tied the score 24-24. The team pushed through all the pressure and won the game with two great hits, digs and serves.
The Pride found themselves in a rut like they were in the first game–trailing by four points. With Wakefield up 15-11, Leesville Road called another timeout.The Pride, after an intense timeout, made a final surge to claim victory. Leesville Road scored a 10 point run to finish the game 25-11
The Pride has now slid into second place in the Cap-8.