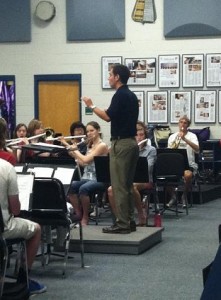 For the 2011-12 school year, Leesville welcomes a new faculty member: Mr. Christopher Serina, who has been a band director for five years. As reflected by students' performances, it is obvious that Mr. Serina has stepped in this year with a positive attitude, encouraging students to do their best.
When asked to compare the previous band director, Mr. Albert, to Mr. Serina, Angela Kroninger, junior, said, "[Mr. Serina] has high expectations just like Mr. Albert did. The main difference is that he gives us positive feedback and encourages us to do our best. He knows when it's time to work and when it's time to have fun."
Serina explained his expectations for the 2011-2012 school year. "I will continue what Mr. Albert has done in the past. The students are in charge of what gets done, and they are all self-motivated. If something works, there's no point of changing it."
Ethan Cornelius, freshmen, thinks highly of Mr. Serina. "The first time I met him was during the summer when we picked up our summer music. He was very nice and told us about himself. He was very open and accepting of all of the freshmen coming in from different schools with different techniques."
Seniors in band are very happy about having a new band director. Kelly Faria, senior, said, "Mr. Serina was a student teacher here, so things pretty much stayed the same. He praises us for doing the right thing whereas Mr. Albert felt like we shouldn't be praised for doing what we were supposed to do anyway. [Mr. Serina] gives us positive feedback which is very encouraging."
Serina instructs his classes in a new way that is very beneficial and effective. Nicola McIrvine, sophomore said, "[Mr. Serina] is a positive person, so it's easy to accept his critiques. He makes band more interesting and exciting."
Serina has stepped in this year and while keeping many things the same; he has only improved the performance of his students because of the way he treats them. By having a positive attitude, students take his critiques more seriously and are excited for this school year.