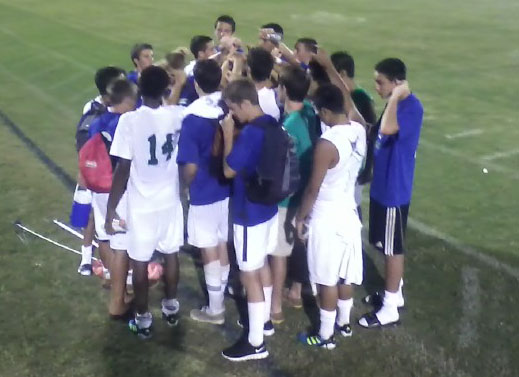 On Sept. 1, the Leesville varsity men's soccer team racked up another win to bring them to a 4-1 record. The team pulled out a 3-0 win against the Holly Springs Golden Hawks. Jordan Gudaitis led the scoring with two goals and Fernando Castellanos added the third.
Faelan Hoese, senior and co-captain, said, "We controlled the ball most of the game, but we couldn't finish our chances." The Pride had 15 shots but only managed to score three times.
On the contrary, the the defense performed very well. Coach Dinkenor said, "They [defense] will be the key as will the willingness to help on defense."
Even though this game was not the best game they have played, the team is steadily improving. Justin Arostegui, junior, said, "We have gotten a lot better over the season and we are going to keep getting better."
Nathan LaFuria, senior and co-captain, agreed saying, "We will be good, we just need to clean up the little things."
The team is coming together on and off the field. When asked about the positives of this year, Hoese said, "I like the coach. I like my teammates. I like soccer."
Throughout their games, varsity team has proved that they have talent. The team's hard work at practices, strong and reliable defense, and dangerous offense will help to make the Pride a tough team to beat.
Anne Cushman is a staff writer for The Mycenaean and resides in North Carolina. Her hobbies include petting horses, hang-gliding, and soccer. Some of her numerous aspirations are to climb Mount Everest, kayak the Colorado River, and write well. Also, she loves One Direction.