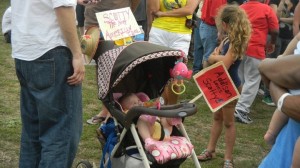 On Saturday May 15, Scotty McCreery, an American Idol top 3 finalist, returned to his hometown of Garner to perform at Lake Benson Park.  To celebrate his homecoming, the town of Garner sponsored a free parade and concert to honor McCreery.
It was a hot and humid afternoon when I arrived at Lake Benson Park, and the lawn was already almost completely covered with fans.  The News and Observer predicted a potential audience of almost 30,000.
Garner resident, Tory Daley, said, "I run with my dog in this park every week and to see the entire field filled with cars and masses of people was mind boggling."
McCreery was scheduled to perform at 3 p.m., but many fans arrived long before to secure their spot on the lawn.
Cooper Paiva, a Leesville junior, attended the event with Sarah Little, Emily Gottlieb and Kendall Kelley.
"We got here at 10:30.  We stood around for 5 hours, and we were only 4 rows back from the front.  It was hot and sweaty–but amazing!  We'd definitely do it again;  only next time we'd bring water."
Ryan Hoffman, senior, concurred.
"I've been here since 12–but I wanted to make sure I got to see Scotty and the parade!"
The rest of the crowd emanated the same energy as Paiva and Hoffman.  Children sat on their fathers' shoulders to get a better view, teen girls donned homemade "Scotty McHotty" or "Scotty with the Body" T-shirts–one man from Virginia even wore an armadillo mascot suit to display his enthusiasm.
Emma, a little girl from Morrisville in a pink Scotty T-shirt said, "I love everything! Especially the parade.  It would be awesome if Scotty wins American Idol because my cousin knows Scotty."
Paige from Apex, said, "I just think his singing is good.  And I just like him that way."
In any direction you could spot a "We love Scotty sign," and the boy must have had at least twenty marriage proposals over the loud speaker.  WQDR-94.7, even re-named the radio station "Scotty 94.7," after McCreery.
The air was thick with the moisture of a sweltering day and the smell of funnel cakes.  It was sticky like dried-on ice cream and fresh like green grass.
When McCreery finally came on stage, the crowd exploded with emotion, clear that Scotty McCreery was the pride of Garner.  It was easy to tell that McCreery had just as much love for the town that raised him as Garner had for him.  Before he began his lineup, McCreery said to the crowd, "Thank you so much! I love you guys!"
Garner's mayor, Ronnie Williams, said, "This is Garner's proudest moment!"
After a sentimental speech, McCreery began the show.  Since he was scheduled to throw the first pitch at an NC State home baseball game at 6 p.m., McCreery only had time for five songs.
He covered Montgomery Gentry's, "Gone," Garth Brooks', "The River," John Michael Montgomery's, "Letters From Home," Josh Turner's, "Your Man," and Jamey Johnson's, "In Color."
McCreery was in for a little surprise when Mr. Josh Turner, himself, showed up to sing a duet of "Your Man," with McCreery.  It was refreshing to see that McCreery was not yet too famous to be in awe of the country music superstar: His reaction to Turner's appearance mirrored the crowd's reaction to his own.  Even as Scotty's stardom increases, I predict he will stay humble and loyal to his roots.
Daley agreed: "I'm sure this much fame is hard to take in, especially for a small town boy, but I think Scotty will be just fine because he has good morals and a lot of talent. I think he has so much support from such a small town because he captures the heart of all age groups."
As the clouds darkened, the crowd feared that the concert would be rained out.
However, not a drop fell until Scotty had finished his last song.
McCreery attributes this good fortune to prayer.  Over the loudspeaker, McCreery expressed that he had been nervous about the weather.  Then he mentioned a specific instance in which he found a dog-eared passage in his Bible, he turned to the page and at bottom it said, "And I withheld the rain from you."
True to the Bible verse, the rain did not start until the concert was over, and people filed into a line to wait for shuttle buses to ride back to the parking area.
Despite the long wait for the shuttle buses, people were still happy to have come.  Around me, I could hear, "This is all for you Scotty," and "It was so worth it!"
Two children in front of me smiled and laughed, waving at me the entire wait.  Their father was not at all worried when they squeezed under my poncho to stay dry–there was a sense of trust in this Scotty community.  Another man offered those around him extra cupcakes, and people danced and sang to Scotty's songs.
Such an amiable atmosphere was a true testament to the soul of Garner.
"There's a lot of really great people you get to know," said Daley of her hometown.
Even though my feet hurt and the temperature had dropped below tank-top-and-shorts-weather–I too, felt that coming out to support McCreery had been worth it.
When I first arrived at Lake Benson Park, I did not understand the Scotty fever.  I have never been a fan of American Idol, and I only attended to help a friend celebrate her birthday.  By the end of the day though, I was sold.  It is not often that a rising star is as modest and genuine as Scotty.  Perhaps some people like him because of his country-deep voice or because of his goofy smile and blue eyes.  But the real reason that Scotty has captivated so many people is because of his down-to-earth demeanor.
Daley recalled a demonstration of McCreery's character as she watched the parade. "As Scotty passed me, he put his hands on his head, and I think I saw him crying because I'm sure he is so thankful and overwhelmed by the support that his home town gives him. We are so proud of the person he is, in addition, to how far he's come on Idol."
When people look at Scotty McCreery, they see a young man from a small town.  A young man who used to work at Lowe's Foods and play baseball for his high school.  A young man, who despite his rise to fame, still wears a cross necklace and stays faithful to God–who even after being praised by the American Idol judges and spending months in Hollywood–is proud to be from a little town called Garner.  They see someone that looks just like them–someone who they have as much affection for as a family member.  Garner knows that no matter how famous Scotty McCreery will become, no matter where he will eventually live–that he will always love Garner best.  They know that after returning from tour or a photo shoot that all Scotty will really want is a glass of sweet tea and some time to watch Sports Center.  They know he will never forget his home.
Ron Fowler, Scotty's youth pastor, said it best.
"He's made his family proud–and he's made his community proud."
Scotty McCreery has done Garner the best service that they could pray for; he's given them something to be proud of.  He's given the world a chance to see Garner the way its own residents see it–to say, this is where we're from–and this boy, this is the type of person that our town creates. For a place that would normally be overlooked, that would normally be dismissed, McCreery makes Garner distinctive.  Garner residents already knew their town was special, but now, the rest of America will know it too.