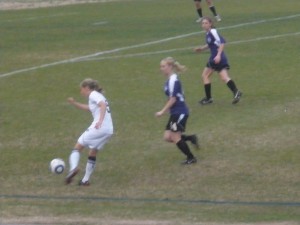 On Friday, March 11, Leesville Road defeated Wake Forest- Rolesville 3-0 in varsity women's soccer. With the win, the Pride moved to 5-0 on the year.
Winning on Wednesday, while an appreciated victory, meant more to the team than just a win — in their first away game of the season, Leesville proved they can perform just as well on the road as they do at home.
Courtney Johnson, junior, felt the game was a defining moment for the team. "Playing away from home is always tough, but we fought hard. We believed in each other and managed to come out on top," said Johnson.
Nicole Park, sophomore, agreed with Johnson that the game was significant. "We have talent at every position, but we're still trying to get familiar with one another," said Park. "We worked on that yesterday, but the most important thing at this point is still putting it all together."
Without the seniors from last year's outstanding season, the Pride had many roster spots to fill. This season, instead of seasoned veterans, the team is stocked full of new freshman and sophomores.
Johnson acknowledges the team's youth but knows the team will continue to be successful. "We are a younger team, and we've got a ways to go. Still, we get along well, we're bonding, and we're only getting better as we go along," said Johnson.
Coach Paul Dinkenor thinks his girls will come together as a group, and so he holds them to high expectations. "Our focus is on winning the game we have that night and no more than that," said Coach Dinkenor.
As the season goes on, the girls will experience both the highs and the lows of the year as a team. However, no matter what happens, Coach Dinkenor has the same goals for his team.
"We want to grow together as a true womens soccer team at LRHS and outwork each team up on the schedule. Still, more than anything else, I want our girls to have big fun getting better every day on and off the soccer pitch," said Dinkenor.