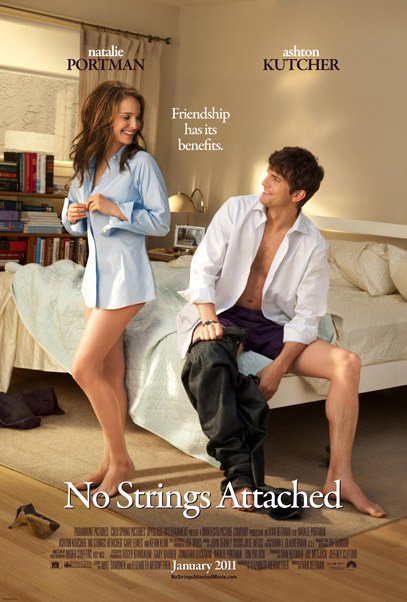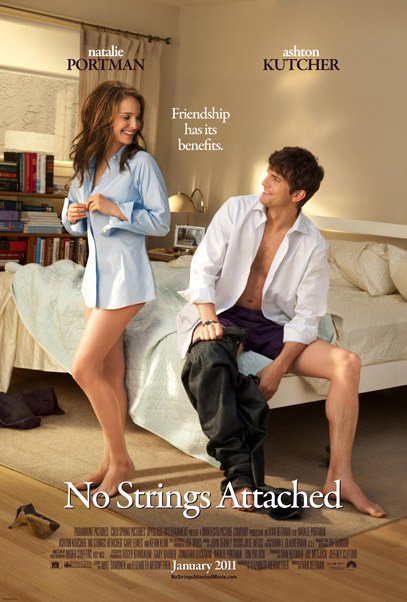 No Strings Attached, starring Ashton Kutcher and Natalie Portman, is a light, cutesy comedy about the pitfalls of being friends with benefits. Full of "romcom" cliches and little that was unexpected, the movie was a fluffy, feel-good comedy with little substance but a good chick flick for a rainy day.
Portman plays Emma, an MIT-graduate working ridiculous hours as a resident in a hospital. Kutcher is Adam, a distressed technical crew member for a teen musical TV show. The two have a meet-cute at the age of fourteen at summer camp and continually run into each other for the next fifteen years. Eventually, the unlikely pair have a one night stand and decide to continue their relationship as strictly friends with benefits, complete with rules enforced by the oh-so-independent Emma.
The overall theme is contrite and overdone, but the plot was peppered with funny one-liners and quirky comrades, such as Adam's friend with two dads who is desperate to prove that he isn't gay. Adam's dad, a washed-up 80's sitcom star, dates Adam's bimbo ex-girlfriend and smokes weed all the time.
The classic gender roles in this romantic comedy are switched, with Portman being the no-emotions-attached-I-just-want-sex part of the pairing whereas Kutcher plays the but-I-love-you-let's-be-together personality. Doing his best to woo Emma, Adam brings her cupcakes and a "Period Mix," a CD filled with songs to comfort her during that time of the month, featuring songs like "Sunday Bloody Sunday" and "I've Got the World on a String."
As a female who has not yet reached the menopausal part of her life, that was my favorite part. Boys should perhaps take a page out of Adam's book.
However, the movie is far from original. No Strings Attached is reminiscent of Judd Apatow's gem Knocked Up and several episodes of one-night-stand-turned-love in Sex and the City.
No Strings Attached will certainly never win any Academy Awards or be remembered past February, but it is definitely one of the funnier, more original versions of the classic romantic comedy. Taking overdone themes and giving them a quirky, goofy cast and script made the movie one of my favorite fluffy romcoms in a very long time. However, you will likely find it in the five-for-$25 movie bin at Blockbuster in a few months.